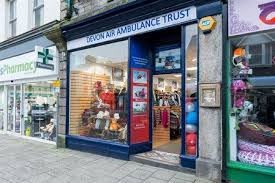 But they open in real-life too!
You can fly along to Devon Air Ambulance shops again, following a three-month interruption for the pandemic. But the much-loved Devon charity's making some changes too, including taking each shop online through their own Facebook pages, so shoppers can see what's in stock.
In line with government guidelines, the shops have implemented five tests to make them as covid-secure as possible. But like many retail outlets there are changes in the way people will shop and donate items. As is the case in many shops, customers will not be able to browse the shelves as they have previously as a safe and controlled shopping environment could not be maintained if this were the case. So as well as individual Facebook pages, each shop will put more items in their windows.

Chrissie Peel, Retail Operations Manager at Devon Air Ambulance says:"We are delighted to be able to open our shops and welcome our supporters once again into an area that they feel safe and protected. We are also pleased to be launching our new eBay shop next week, new items will be added to that daily across many different categories, so lots to shop and a great way to support the charity".

As with all charity shops, donations are vital to their success and contribute greatly to the cause. Those wishing to donate to Devon Air Ambulance will need to telephone their local shop when it opens to arrange a time slot to drop off their items. The government has stipulated that donated goods must be set aside for 72 hours before they can be prepared for sale, to ensure minimum risk of contamination. This organised approach is necessary to ensure the shops don't reach capacity too soon and be forced to turn away donations.