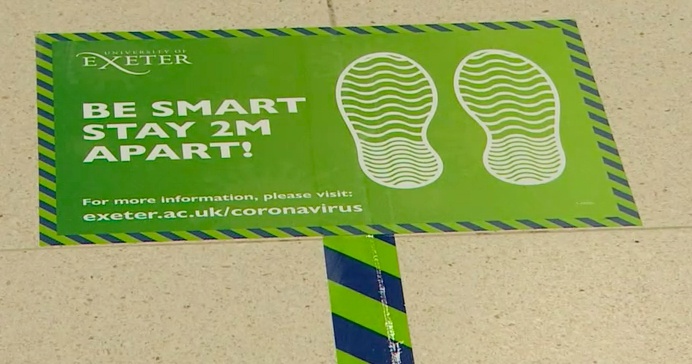 Because of misreporting a fortnight ago
The number of new coronavirus cases in Devon and Cornwall last week was down by more than 250, but it's not as good as it looks. With 1,113 new cases, the figure is still high. And the fall from 1,369 is partly down to the Public Health England database issues two weekends ago that meant thousands of cases were not added to figures at the right time.
It's a mixed picture around the region. Cases in Plymouth, Mid Devon, North Devon the South Hams, Teignbridge, Torridge, West Devon, and Torbay have risen, with falls in Exeter, Cornwall and East Devon. 170 cases were in Cornwall, with 69 in East Devon, 379 in Exeter, 39 in Mid Devon, 50 in North Devon, 176 in Plymouth, 41 in the South Hams, 71 in Teignbridge, 88 in Torbay, 23 in Torridge and 27 in West Devon
The number of people in hospital in the south west has risen to 151 from 77 last week, and 17 people are on mechanical ventilators.
Devon's Director of Public Health has warned residents to be vigilant as coronavirus cases in the community continue to be identified. While the rolling average of new cases in the county has been dropping in recent days, this is mainly related to the fall in cases among students at the University of Exeter.
Dr Virginia Pearson says: "The pattern in Exeter has shown a successful reduction in student cases with no sign of significant spread thanks to the swift actions of the University and other partners in working together to contain the situation. But we must not be complacent. We are now seeing more community cases in Exeter and across Devon, in line with the rise in the rest of the country, particularly in the working age population, and we expect cases to increase over the next few weeks.
"These cases cannot be linked to university students and the coronavirus appears to be passing between people outside of covid-secure settings, which suggests that community spread is now occurring. Obviously, we want to limit the impact on people in older age groups and on to those who are particularly vulnerable so the time to act is now.
"Everyone – and particularly those people of working age – must be extra vigilant about maintaining social distancing, handwashing, wearing face coverings and avoiding social mixing if they can."