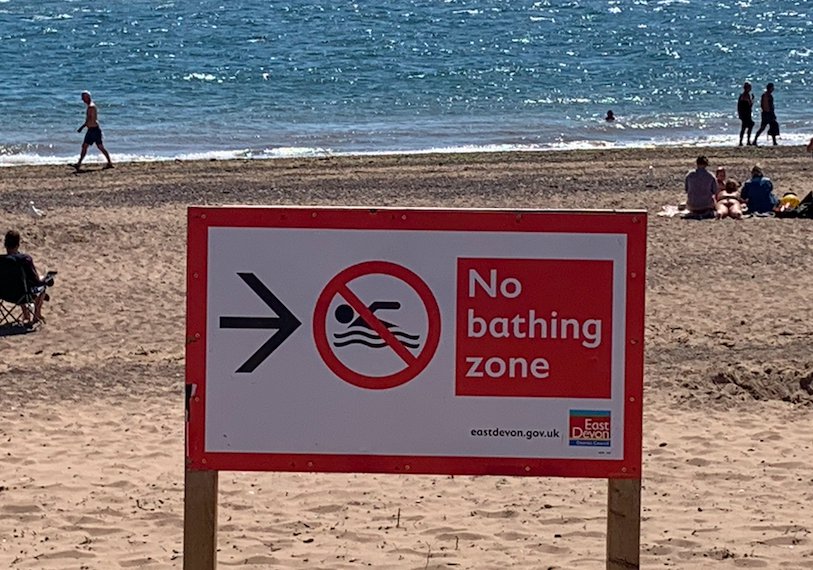 Exmouth sign used to say "Bathing is dangerous"
Someone dies every fortnight
Deaths by drowning in Devon have risen by 30% in just one year. On average, someone loses their life in the water every two weeks in the county. It's the third highest level in the UK for such deaths, with 124 fatalities in the last five years.*
Now the Royal Life Saving Society UK (RLSS UK) is appealing for people to learn basic water safety and rescue skills and build their confidence in, on and around water.
The charity is fearful that there could be a significant rise in drowning accidents and fatalities this summer when lockdown restrictions lift further, with a worrying number of incidents already hitting the news.
Radio Exe recently reported how 'danger' signs on a critical stretch of beach at Exmouth have had their message downgraded to 'no bathing' and are located in places which are not visible at key entry points to the beach.
Despite the number of accidental drownings dropping in the UK in the last year, 623 people still died from drowning across the country in 2019. With lifeguard patrols currently postponed and emergency services already stretched to the limit, people are more at risk now than ever before.
In 2019, 26 people were reported to have drowned in Devon, representing a 30% rise from 2018, when 20 people lost their life this way.
As part of drowning prevention week, families are being urged to access the RLSS UK's free resources to learn how to keep safe. The children's resources aim to teach water safety in a fun and engaging way, whilst the Lifesaver-Lifechanger tool caters for older children and adults.
RLSS UK CEO Robert Gofton said: "We are extremely concerned that this summer will see people rushing to jump into the water without proceeding with caution and understanding the potential life-threatening implications. We have witnessed a recent increase in public euphoria and risk-taking behaviour.
"Devon has a particularly high rate of drowning incidences and we urge as many people as possible to access our resources to learn how to stay safe. RLSS UK believes that the majority of drowning incidents can be prevented."
To access the resources, visit www.rlss.org.uk/dpw.