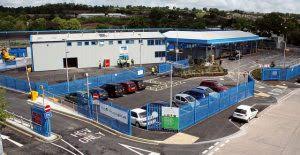 But only with as much rubbish as cars
Restrictions at Devon's Recycling Centres are being ed further, with personal vans allowed to bring household waste. You'll need to pre-book their visit at three of the county's busiest sites: Exton Road (Exeter), Pinbrook Road (Exeter) and Brunel Road (Newton Abbot).
To ensure the recycling centres have enough capacity to serve as many people as possible, and to keep unloading times to a minimum, vans will only be able to bring the same amount of waste that would fit in a normal sized family car or trailer. For example, standard vans such as a Ford Transits, VW Transporters or Vauxhall Vivaros should be no more than a third full. Very large vans such as a Mercedes Sprinters should be no more than a quarter full. Vans coming to sites with more waste will be turned away.
Vans will also need to be less than 6 metres long and less than 3.5 tonnes gross weight. Box vans, Luton vans, horsebox vans and vans towing trailers are not permitted, as standard.
The easing of restrictions applies across all but two of the council's household waste recycling centres: Totnes and South Molton (Maclins Quarry) sites, because they're too small.
Household waste recycling centre facilities are only available to householders delivering their own household waste. Waste from business and trade is not permitted – this includes landlords with waste from properties or holiday lets and 'man with van' type house clearance and waste removal businesses.
To protect the public and staff a series of health protection measures will continue to be in force, including social distancing guidelines. Staff will not be able to assist with unloading waste and all payments on site must be by credit/debit card only.