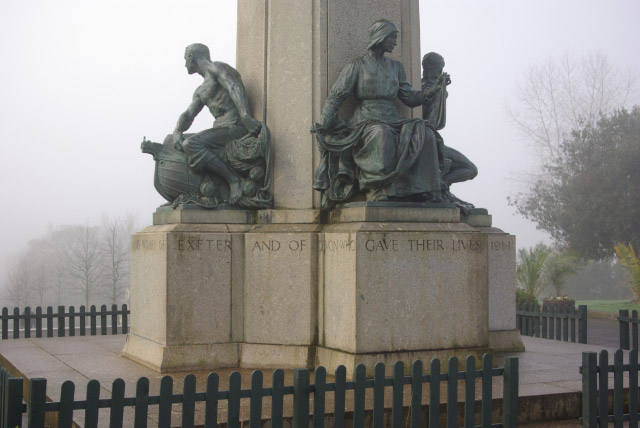 Northernhay Gardens' war memorial (courtesy: Stephen McKay)
Northernhay Gardens focus in Exeter
It's Armistice Day. The hundredeth anniversary of the end of the Great war. Today, around Devon and around the world, people will pause to remember.
At 11am in Northernhay Gardens, in the Strand in Exmouth, at war memorials across the county, servicemen and women - retired and serving, as well as cadets and people from all walks of life will remember this day at the 11th hour on the 11th day of the 11th month when the guns fell silent in Europe.
27 million people lost their lives. Another 30 million were casualties.
Yesterday fans at Exeter City Remembered. So did supporters at Sandy Park. Exeter Chiefs chairman Tony Rowe, a former Royal Marine, paid his respects to the 25 former players who died in the service of their country.
David Lloyd, executive warrant officer on HMS Defender which is on trials off the Devon coast at the moment, took part in the Sandy Park commemorations. he says: "It is so important today not to forget the contribution our ancestors have made for the security and wellbeing of this country, so we have been allowed to live in a society that is free from persecution."