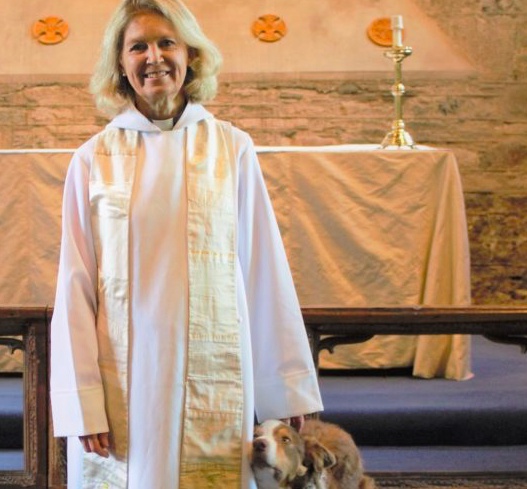 She leads online event
A Devon Vicar is leading this Sunday's Church of England national online service, marking the end of mental health awareness week.
The Reverend Professor Gina Radford was Deputy Chief Medical Officer for England until 2019. She is now the Vicar of South Brent and Rattery and has been advising the Church of England on its Covid-19 guidance for churches. The service also features a contribution from Prince William, the Duke of Cambridge, in which he urges people who are concerned about their mental health or that of others to reach out and start a conversation.

Reverend Radford filmed her parts of the service in St Petroc's Church in South Brent, accompanied by her "slow, clumsy, gentle" dog Buddy.
She said that mental health awareness week had a particular significance this year as more people struggle with mental health and well-being.
"For some people of faith this is particularly challenging," she says. "Surely, we might ask, my faith should get me through? But we need to face the reality that we are human – we are body, mind and spirit. We are all susceptible to mental ill health, just as we are to physical ill health."
She said she never expected her previous role in public health to prove so vital when she moved to Devon to be a parish priest. "When I left the Department of Health I honestly thought that chapter of my life was ended," she says. "But God moves in mysterious ways, and I can't but help thinking he had a plan!

"In some way I have had one calling and two careers. In my first career it was in looking after people's physical and mental health needs, in this career it is about their spiritual needs. And to be able to link them together so explicitly as I am dong now, is something of a privilege- serving the whole person."

The service is available on the Church of England Facebook Page and Youtube Channel.