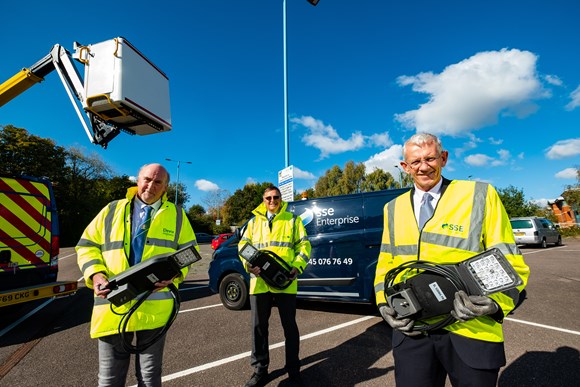 Councillor Stuart Hughes, Chris Cranston, the council's highway operations manager, and Andy O'Connor from SSE (courtesy: Stuart Nicol)
79,000 bulbs to change
All Devon County Council's 79,000 streetlights will be converted to LED lights within the next two years, reducing carbon emissions by 75%. It's the equivalent of taking 8,000 cars off the road (which is also something the council is trying to do).
A company called SSE Contracting (SSEC), which has depots across Devon, has been awarded contracts to maintain the lights in the county, except for Plymouth, for the next 10 years – with the aim of the contract being carbon neutral by 2030. Around 34,000 streetlights have converted to the technology since 2015.
Councillor Stuart Hughes, Devon County Council cabinet member for highway management, said: "The streetlighting contract is extremely important as we continue to reduce our carbon emissions, and this new contract will enable us to develop our well-established collaboration with SSEC. Streetlights accounts for a significant amount of the council's emissions, and working with SSEC will help us make further energy and carbon savings.
Derek Bell, SSEC Head of Operations Regional Lighting, said: "We recognise the added pressure that local authorities are under and we're keen to support economic recovery wherever possible while also delivering significant energy savings."