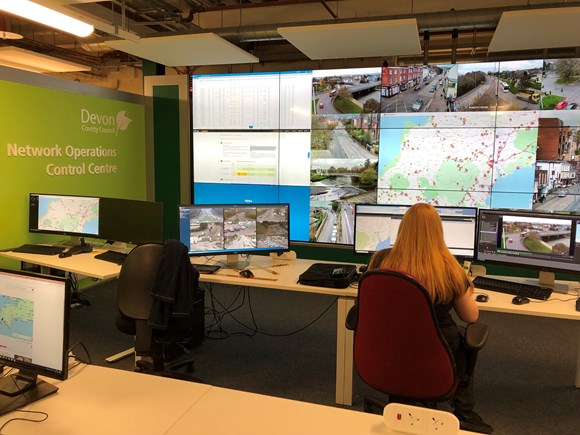 True grit
Devon's highway network will be monitored from a new control centre this winter.
Along with its usual preparations for the autumn and winter months, Devon County Council has also relocated its control centre to Sowton in Exeter. The centre monitors Devon's roads 24 hours a day, 365 days a year.
Some of the staff can work from home, accessing the system to monitor CCTV, weather information and congestion data. People from the centre also control intelligent transport systems, such as the message signs at the side of roads.
The centre's systems link to 35 roadside ice detectors at strategic locations in Devon. The council works with weather forecasting organisations to use route-based forecasting that shows which parts of the salting network will need treating on each night of the winter. They also decide the best time to send gritters out. Five gritters have been upgraded this year to replace older vehicles in the authority's winter fleet of 37 frontline gritters and they're starting winter with the usual level of around 24,000 tonnes of salt in its depots.
Due to last winter being fairly mild and wet, around 9,500 tonnes of salt were used on Devon's roads – treating around 75,000 miles of the county. That's below the average winter figure of around 13,000 tonnes of salt.
More than 3,500 grit bins across Devon are available to support self-help on roads which are not on the gritting network. These supplies must only be used on the public highway. Empty grit bins can be reported via the Council's "Report It" webpages.
Around 325 volunteer snow wardens in towns and parishes throughout Devon, provide additional support for their communities as part of the Council's winter self-help scheme. The snow wardens treat their priority routes during spells of prolonged severe weather.