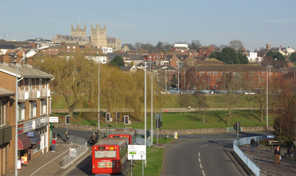 The repairs and resurfacing work is expected to last eight weeks.
Disruption is expected at Exe Bridges from this evening as repair work gets underway.
The Devon County Council scheme, which involves reconstructing and resurfacing Exe Bridges and an adjoining section of Alphington Street, is scheduled to take eight weeks to complete.
The North and South bridge will also be re-waterproofed beneath the carriageway to maintain the structure, and a number of manhole covers, gully gratings and kerbs will be replaced.
Most of the work will be carried out from 7pm to 7am, although some daytime work will be needed on occasions.
Access to Exe Bridges and some adjoining roads will be restricted over a number of weekends. These are planned for 9 and 10 March, 16 and 17 March, 23 and 24 March, and 30 and 31 March.
On these weekends, a number of roads will be closed from 6am on Saturday morning through until 7am on Monday morning and signed diversions will be in place.
The roads affected will change over these weekends and further information and traffic management plans are available at https://new.devon.gov.uk/roadsandtransport/traffic-information/roadworks/exe-bridges-resurfacing/
The work is weather sensitive and the timings of the weekend work and duration of the scheme may be subject to change.