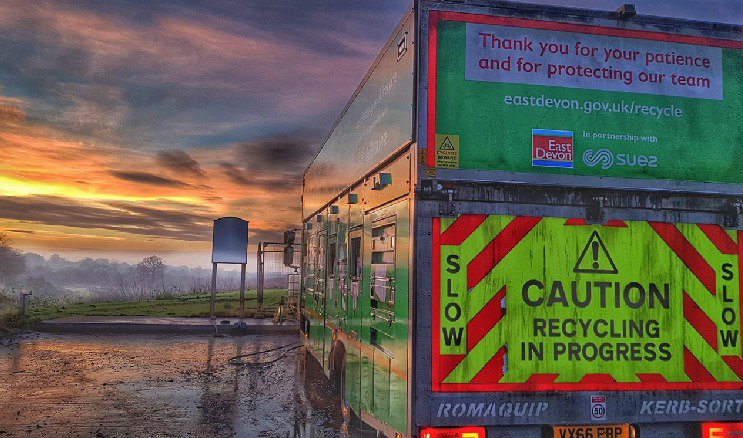 Keep on truckin' (courtesy: East Devon District Council/LDRS)
But Exeter is nowhere near
East Devon recycles more than 60 per cent of all household waste, beating a national target by 10 years - but Exeter is the worst performing recycling council in the county.
The government expects councils to recycle that amount by 2030.
But East Devon resident already among the best recyclers in the country, with the tenth highest recycling rates. At county council level, Devon is the second best county in the country for recycling with a countywide rate of 56.6 per cent.
Cllr Geoff Jung, East Devon District Council's portfolio holder for coast, country and environment said: "We can't thank residents enough for embracing our curb side recycling scheme introduced five years ago.
"Recycling is more important than ever as we work to build a greener economy and combat climate change. The materials that we collect from households are valuable resources that benefit our environment and our economy."
In 2016/17, East Devon District Council was recycling just 46 per cent of its waste, but since moving to a three-weekly residual waste collection system in the last three years, has seen that rise to 60.5 per cent.
Across the rest of Devon, councils are rolling out plans to boost recycling rates. Teignbridge District Council has a new ten point action plan to try to rates rise to 60 per cent.
South Hams District Council has launched a 'super recycler' service which means residents will have a weekly recycling collection and, for the first time, will be able to put glass and plastic pots, tubs and trays out for recycling. Food waste will also be collected weekly.
West Devon Borough Council has extended its trial for around 1,000 homes where non-recyclable waste collections take place every three weeks, rather than fortnightly. That's due to finish this month, but early results of the trial are positive.
Torbay Council says three-weekly bin collections will be as a last resort if recycling rates fail to go up enough.
Exeter City Council had previously put forward plans to change the way waste is collected and to move to a three-weekly model, but councillors have launched a review to look at alternatives, citing 'financial and operational' considerations.
RECYCLING RATES FOR 2019/20
East Devon – 60.5 per cent
Exeter – 26.1 per cent
Mid Devon – 53.1 per cent
North Devon – 49.5 per cent
South Hams – 54.4 per cent
Teignbridge – 56.3 per cent
Torridge – 54.1 per cent
West Devon 53.7 per cent
Devon County Council 56.6 per cent
Plymouth 34.1 per cent
Torbay 40.2 per cent