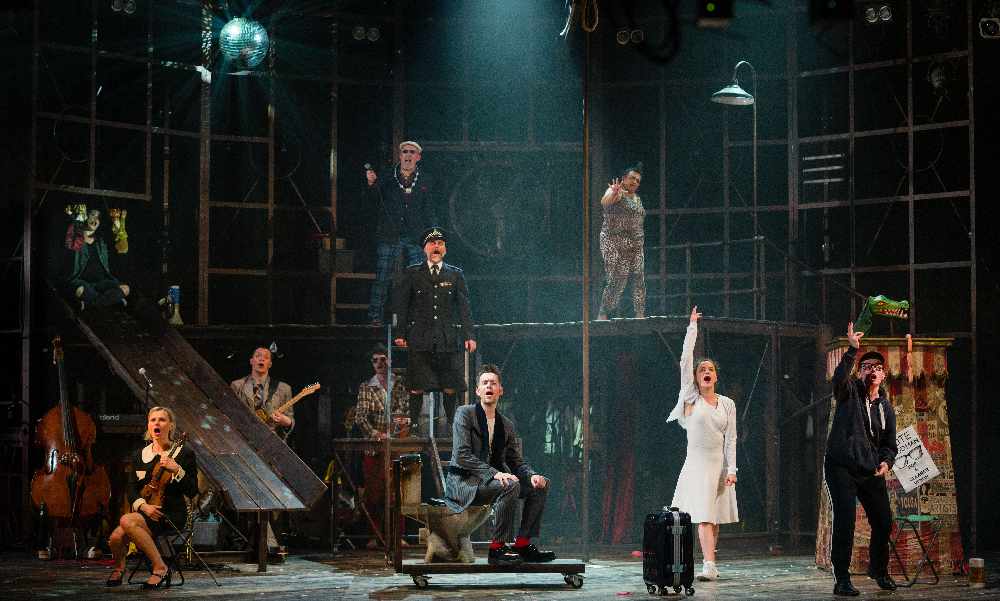 Kneehigh Theatre's Dead Dog in a Suitcase was at Exeter Northcott (courtesy: Knee-high)
Joint application for 2025 designation
Torbay and Exeter have joined forces to become the UK's City of Culture in 2025.
Both are UNESCO-designated. They believe that becoming a City of Culture will bring significant financial, social, and cultural benefits to the region. It's thought around £300 million of economic gains could be delivered to the winning area.

If the bid is shortlisted into the final six, Torbay and Exeter will receive £40,000 to develop its joint programme to secure the status. If successful, the next stage would see the cultural community fully consulted to develop the proposal. Even if unsuccessful the joint bid will lead to future opportunities to work together to capitalise on opportunities and ideas included in the City of Culture proposal.

After Liverpool became European Capital of Culture 2008, which had significant social and economic benefits for the area, the UK launched its own scheme through the Department for Media, Culture and Sport. It runs every four years, with the designation lasting 12 months. The inaugural holder was Derry in 2013. In 2017 Kingston upon Hull took over the title before Coventry hosted in 2021.
The Devon bid sees Torbay Council and Torbay Development Agency (TDA) joining forces with Exeter City Council. The bid will showcase closely connected coastal and city destinations creating a cultural corridor between the places while also providing the opportunity to for other towns between Exeter and Torbay to play a major role in a focused programme of events.
Bradford, Southampton, Lancashire, Medway and Norwich have already announced they're making their own plans to nab the title.
Leader of Torbay Council Cllr Steve Darling said: "This bid highlights Torbay's ambitions and the belief we have in our cultural offer and how it can benefit our communities and our aspiration to continue to improve the experience of living, working, and visiting Torbay. It is important to further build on our partnerships across the region, and by working with Exeter we can maximise the opportunities and realise shared goals. With our communities, we continue to recognise and celebrate our local cultural assets."

Cllr Amal Ghusain, Exeter City Council's lead councillor for Culture and Communities, said: "Torbay and Exeter naturally complement and enhance each other, with firm roots in the natural environment, art, literature and learning, with shared aspirations about NetZero carbon targets and with recognised opportunities to learn from each other."

In its submission to become a Cultural City the bid says: "Both Torbay and Exeter provide a brilliant alternative to a one centre cultural prize, the partnership is determined to innovate and create, and present its cultural credentials set against a backdrop of rivers, moors, and market towns, which lend themselves to be front and centre of a cultural and creative programme.

"Our people are passionate about their green and pleasant land, they are fiercely proud of their surroundings, yet celebrate the opportunity to share and develop their cultural offer and their creative skills.

"Independent artists, music makers, crafters, designer makers, theatres, and creative industries find a home and a rhythm on the foundations of a Roman City, in a natural harbour, via UNESCO designations and within the finest natural environment."

The bid will know whether it is through to the next stage in September.