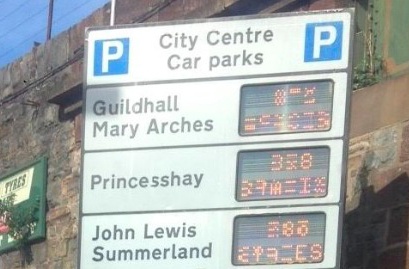 Car park signs in Exeter haven't been working for MONTHS
It has been revealed that signs telling drivers how many spaces are available in car parks in the city have not been working for months.
Keith Lewis, Vice Chairman of the Exeter Civic Society, is calling on Devon County Council to get the car park directional signage into good operational order after they discovered the signs have not functioned well for much of 2018 – and perhaps for longer.
Investigations under taken since August have shown that the reading for Guildhall and Mary Arches car parks were always showing 872, Summerland Street always showed 244 spaces, while on several occasions, the signs were not working.
Mr Lewis said: ""This inaccurate information can only lead to creating congestion in the city centre, and may perhaps explain the long queues often seen on Paris Street with drivers trying to park in one of the three Princesshay carparks which may be full.
"And with the Christmas shopping period looming, which sees an increase in people looking for car parks, we predict chaos unless DCC can get the signs in working order."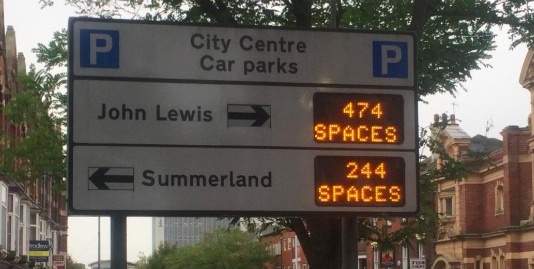 Thirteen signs on the main approach roads were installed in 2005 and are operated and overseen by Devon County Council.
But Mr Lewis added: "They are aimed at directing drivers to car parks that have spaces, but without accurate information being displayed, drivers can arrive at a car park to find there are no spaces available.
"Two of the busiest car parks, operated by NCP at Princesshay off Dix's Field, and Summerlands on Belmont Road, have not been sending information to DCC for some time, resulting in signage showing no information for Princesshay and 244 available spaces for Summerlands, even though it may be full.
"Elsewhere, all signs across the city have been showing 872 spaces available at the busy Mary Arches and Guildhall car parks which are controlled by Exeter City Council, but who knows what the real number of available spaces are. And several signs have not worked at all at various times over the past few months."
Mr Lewis said that they have reported the concerns to County Hall but nothing has changed.
However, the matter will be discussed at the Exeter HATOC meeting on November 6.