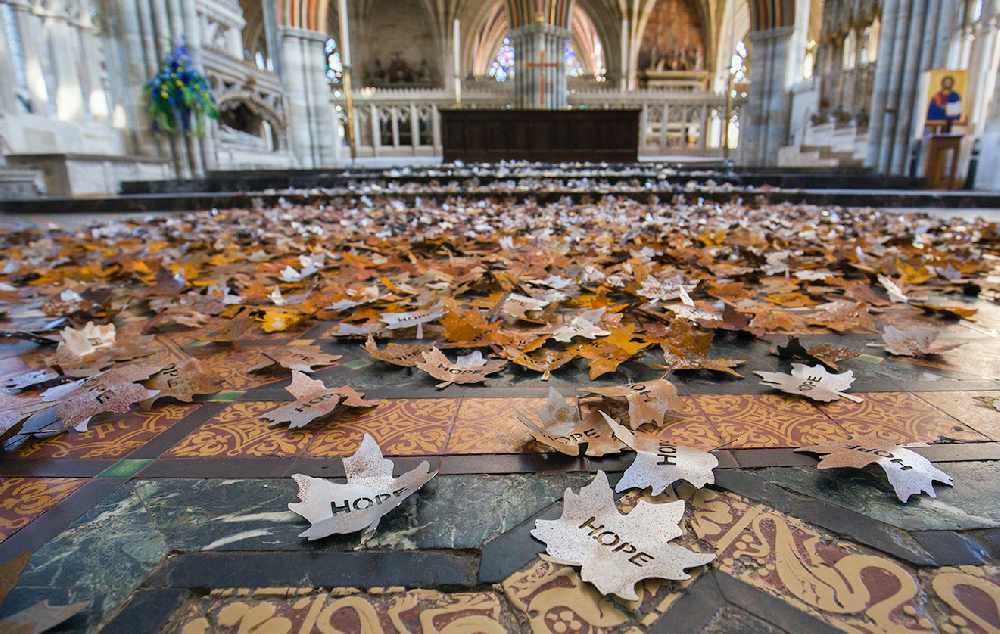 'Leaves' arrives
Hope has come to Exeter Cathedral. It's hosting an art installation to encourage people to reflect on the coronavirus pandemic and think about loved ones.
'The Leaves of the Trees' is in Exeter until 24 September, before heading on tour. Created by sculptor Peter Walker, it honours those who have died of covid-19, and to provide a focal point for reflection.
The artwork has been welcomed by the Dean of Exeter, the Very Revd Jonathan Greener, as an aid to healing after particularly challenging times. He says: "People have been coming to this awe-inspiring building, seeking quiet reflection, for over 800 years. So now we are delighted to be the first to host Peter Walker's new installation, which brings a new way of helping visitors to remember loved ones and contemplate all that has happened over the last few months."
The installation is made up of 5,000 steel leaves, each featuring the word 'HOPE', laid out on the floor of the Cathedral to create an impression of fallen autumn leaves.
The leaves are said to be symbolic for the times we are living in. Sculptor Peter Walker explains: "Steel has been chosen as the material for the leaves, to remind us of our resilience and collective strength. As the artwork tours around the country the steel will age, rust and change colour, just as the leaves of trees do when they fall each year. However in nature fallen leaves are essential to prepare the planet for spring and new growth. It is hoped that the simplicity and beauty of this installation will give people the chance to pause and contemplate their own experience and also the wider situation that we find ourselves in."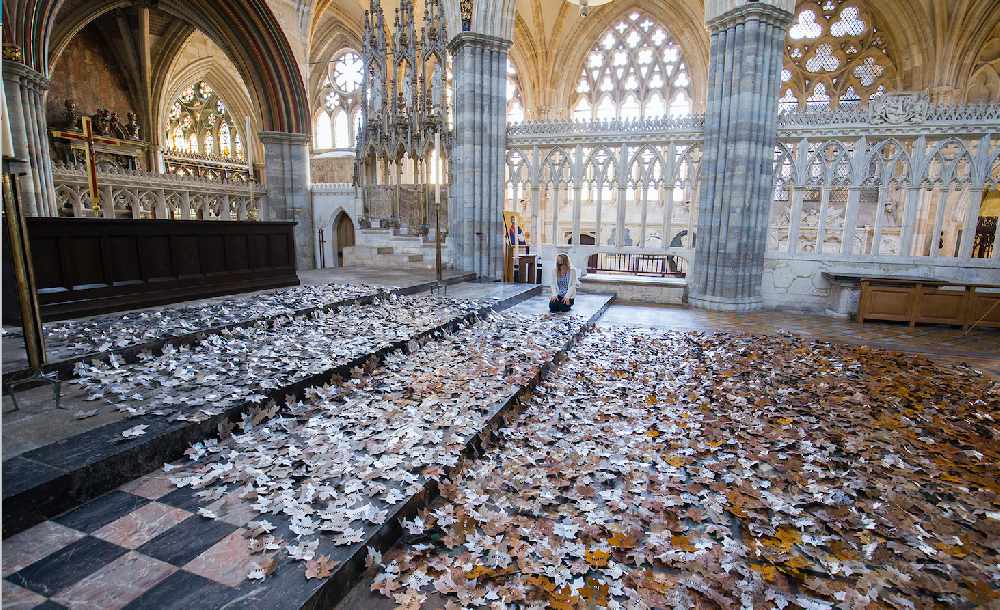 As part of the project, which is supported by the Guild of Health and St Raphael, visitors are also invited to write their own thoughts, messages and prayers on paper leaves.
Admission is included with the Cathedral's reduced entrance fee of £5. Covid-19 safety precautions are in place. After Exeter, the installation will move on to other cathedrals around the country, including Sheffield, Lichfield and Rochester.
Photos by Mark Pickthall