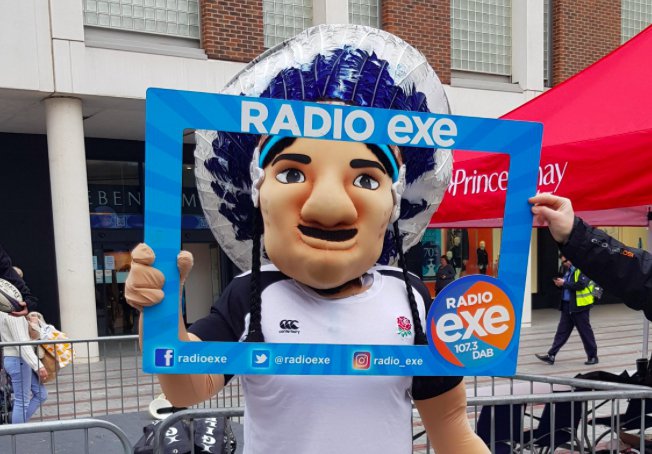 'Gis a job
Mascot 'retires' after racism review
Out of work: one Native American mascot. Skills: waving, having selfies-taken. Normal workload: one weekend afternoon a dozen or so times a year and some personal appearances. Reasons for leaving last job: cultural misappropriation. Hobbies: watching rugby.
It's confirmed. After days of speculation, Big Chief is out of work. He's been "retired," in the words of Exeter Rugby Club, after its board reviewed the imagery it uses as part of the brand it introduced in 1999.
A petition organised by a group called Exeter Chiefs Fans for Change, with more than 3,500 signatures, led the premiership leaders to consider whether the brand was offensive.
After a pow wow on Wednesday afternoon, they decided it wasn't, with one exception. Big Chief. He's had the (tomahawk) chop. Axed. Immediate effect. No notice period. He's an ex-Big Chief.
In a statement the club said: "After a lengthy discussion, the board took the view that the use of the Chiefs logo was in fact highly respectful. It was noted over the years we have had players and coaches from around the world with a wide range of nationalities and cultures. At no time have any players, coaches or their families said anything but positive comments about the branding or culture that exists at the club.
"Part of the club's review has seen the club engage with its sponsors and key partners to seek their views – and they have also listened to the response of our supporters, the wider rugby community and certain sections from the Native American community, all of whom have provided us with detailed observations in letters, emails, social content and videos.
The one aspect which the board felt could be regarded as disrespectful was the club's mascot 'Big Chief' and as a mark of respect have decided to retire him. The club will be making no further comment on this matter."
In the US, the Washington Redskins have dropped their references to Native American culture altogether and changed their name to Washington Football Club. Exeter Chiefs will keep its Native American branding, with the exception of Big Chief.
Famously mute, Mr Chief was, as expected, unavailable for comment.