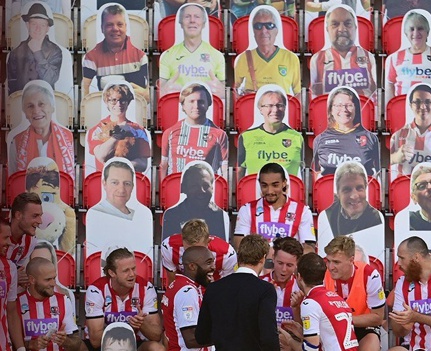 One way of getting in
Fans probably allowed back in October
Despite the heartache of another lost Wembley play-off and a curtailed 2019/20 season, more than a thousand committed fans have signed up for season tickets for the next campaign.
The English Football League (EFL) has confirmed the season will begin on 12 September, although fixtures have yet to be announced.
Exeter will play in League Two for the eighth consecutive year. Three trips to the capital to try to move back to League One, last enjoyed in 2011/12, came to nought.
Season ticket prices have risen slightly for the first time in three years. The deadline for buying tickets at a 'super saver' price is Saturday 1 August. There's still some way to go if the club is to sell 1,800 season tickets, the record-breaking figure of last year. It is hoping to surpass 2,000 sales by the time the season starts. The ground capacity is around 8,500, and before lockdown the club had been enjoying rising levels of attendance at home games compared to recent seasons.
The club says: "This season we celebrate 20 years of the Supporters' Trust. The club has achieved so much since the Trust formed in 2000 and subsequently took over the running of the club in the summer of 2003. Through good governance and a community centred ethos we have enjoyed a fantastic period of success and financial stability that is unequalled in the club's history."
Under government guidelines, it looks like fans will be able to return to grounds from 1 October, subject to social distancing being in place, but details have yet to be established. Premiership clubs are likely to open at 40 per cent capacity, with attendance initially offered to season-ticket holders only. Fans are likely to have to wear face masks because of the risk of spreading the virus by singing, cheering or booing.