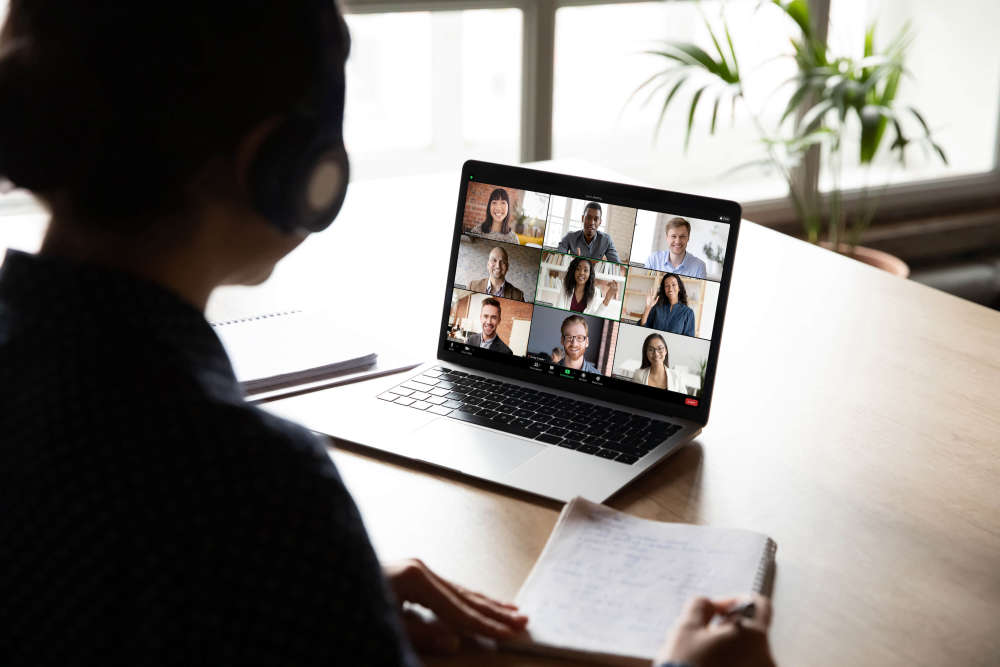 Councillors want option to meet virtually (courtesy: Zoom)
Rules currently stop them
The government is being urged to allow "flexibility" for how council meetings are held, after Exeter councillors supported the idea of running some sessions remotely.
English councils were allowed to hold meetings virtually from the start of the pandemic until May 2021, when temporary legislation ended. Wales and Scotland have since changed their laws to allow online meetings, but England hasn't.
It means members now have to be present physically to vote on issues, though they can contribute to discussions remotely where technology allows.
At a full meeting of Exeter City Council on Tuesday [19 July], the vast majority of councillors voted to support a national petition calling on the government to allow councils to meet remotely again if they wish.
The move comes after the government argued there wasn't sufficient parliamentary time to debate and vote through a new law.
Exeter is the latest district authority in Devon to call for greater flexibility. Mid Devon and Teignbridge backed similar motions, while Torbay's leader has said it's "a pity" local councils can't decide for themselves.
Neighbouring East Devon is currently getting around the rules by holding virtual meetings that only reach 'indicative decisions.' It then passes to the chief executive or senior officers to make the final decision, although they are assumed to back whatever councillors decide.
The Exeter motion, put forward by Councillor Ruth Williams (Labour, Mincinglake & Whipton), cited increased attendances at remote meetings, the financial and environmental benefits of less travel, and improved equality of access as some of the reasons in favour of the change.
Fellow Labour councillor Josie Parkhouse (Pennsylvania) discussed a survey by the Local Government Association last year which found a return to in-person meetings resulted in lower councillor and public attendance at more than two-thirds of authorities.
"I believe that a hybrid model seems to be a logical way forward," she said, adding it could lead to more ethnic minorities, younger people and women to stand for local elections, as well as benefitting those with caring responsibilities and disabilities.
But leader of the Conservative group Councillor Anne Jobson (St Loyes) rejected the motion, saying that holding some meetings online again would be a "retrograde" step.
"Residents elect us and they wish us to attend meetings to make and participate in decisions. It is not as convenient or as accessible to do that – and to do it properly or fully – on Zoom, Teams or any other platform," she said.
"There are things like briefings that are perfectly appropriate to do on Zoom, but council meetings – at which decisions are made – need to be in public."
However, deputy leader of the council Laura Wright (Labour, St Thomas) disagreed: "[Residents] haven't voted us to come into a hall to debate and sit together … they voted for us to represent them."
Leader Phil Bialyk (Labour, Exwick) said it would have to be determined which meetings were held remotely or in a hybrid form should the law eventually change, adding: "This isn't a facility for somebody to say, 'I'm going to do this meeting from The Turk's Head' … there would be a lot of criteria."
Green councillor Diana Moore (St David's), co-leader of the opposition Progressive Group (with the Lib Dems and one Independent), also backed the motion, stating: "Our democracy is precious, and we need to increase and enable access to the democratic process. Because before you know it, it will be taken away."
The council supported the motion by 34 votes to three, meaning it will write to the secretary of state for levelling up, housing and communities to express support for remote and hybrid meetings.