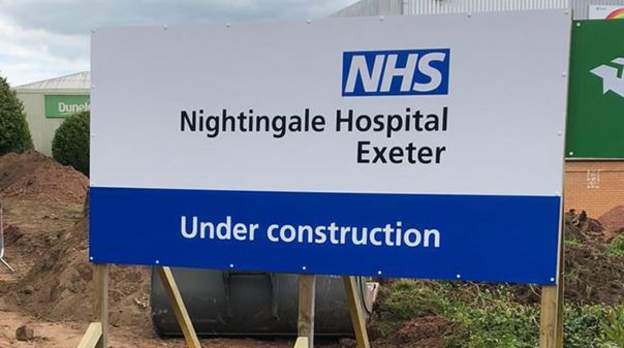 Exeter's field hospital is at Sowton (courtesy: NHS)
East Devon MP gets government assurance
Exeter's new Nightingale Hospital could be used to help other Devon hospitals tackle winter pressures later this year, health secretary Matt Hancock has confirmed.
Set to open in July, the 116-bed hospital, designed as an emergency field hospital for coronavirus patients, is being built on the site of a former Homebase in Moor Lane in Sowton.
East Devon MP Simon Jupp asked the health secretary to give an assurance that: "that the Nightingale will help the RD&E, community hospitals and health and wellbeing hubs continue to focus efforts on delivering the superb services they are well known for across East Devon?"
Mr Hancock said: "Exeter's Nightingale will have more flexible uses than previous Nightingales, so it will be usable, for instance, should there be extra winter pressures. It is all part of protecting the NHS and making sure it is always there for everyone."
Some people have question why the hospital is continuing to be built given that covid hospital admissions are currently in decline. On Tuesday Torridge and West Devon MP Geoffrey Cox revealed that just two patients were in hospital in Devon with coronavirus.