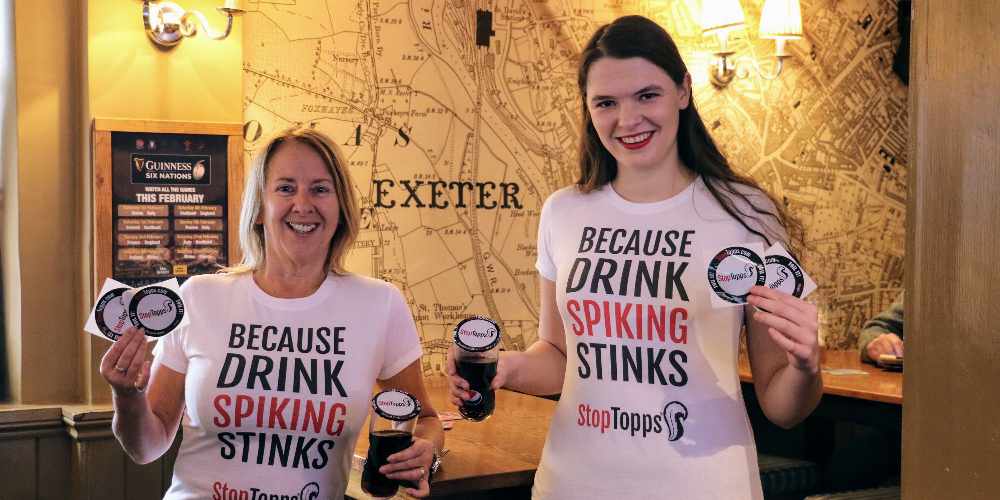 Dawn Dines and Clara George
Even Miss Devon has been spiked
More than a hundred drink-spiking cases have been reported to police over a three-year period, leading to an Exeter-based non-profit company to take action. They're making protective drinks lids to reduce the risk.
Clara George, who's recently been crowned Miss Devon for a second time, is the face of the 'StopTopps' campaign. The Exeter University graduate who now runs her own marketing business has been a victim of drink spiking herself.
StopTopps is led by Dawn Dines, a Devon-based campaigner and social entrepreneur. As part of the collaboration, the two women are running workshops across Devon, talking to young people about the dangers of drink spiking and giving them practical advice to help them protect themselves.
The StopTopps team submitted a freedom of information request for the figures for the number of reported cases of drink spiking in the county. It revealed that the highest number of reported incidents was in Plymouth, with 185 between 2015 and 2018. Exeter had 102 reported incidents for the same period, and Torquay had 60.
Licensing Sgt Dave Moore of Devon and Cornwall Police said the figures for drink spiking incidents across Devon and Cornwall reflected "what appears to be a trend nationally where these types of incidents are on the increase".
The data from 22 out of 43 police forces and the British Transport Police revealed that approximately 10% of victims [of drink spiking] were under 18. Incidents of drink spiking in under 18s have doubled from 32 in 2015 to 71 in 2018 - and between January and September 2019, 68 cases had already been recorded, suggesting the total figure for 2019 is set to hit a five-year high.
Ms George said: "I have been a victim of drink spiking myself and feel very passionately about their cause. I think StopTopps is a fantastic idea and I am delighted to be able to help spread the word and get the lids out to people across the region. I will particularly be working with young, vulnerable people, helping educate them about keeping themselves safe when drinking."
More information can be found at stoptopps.com