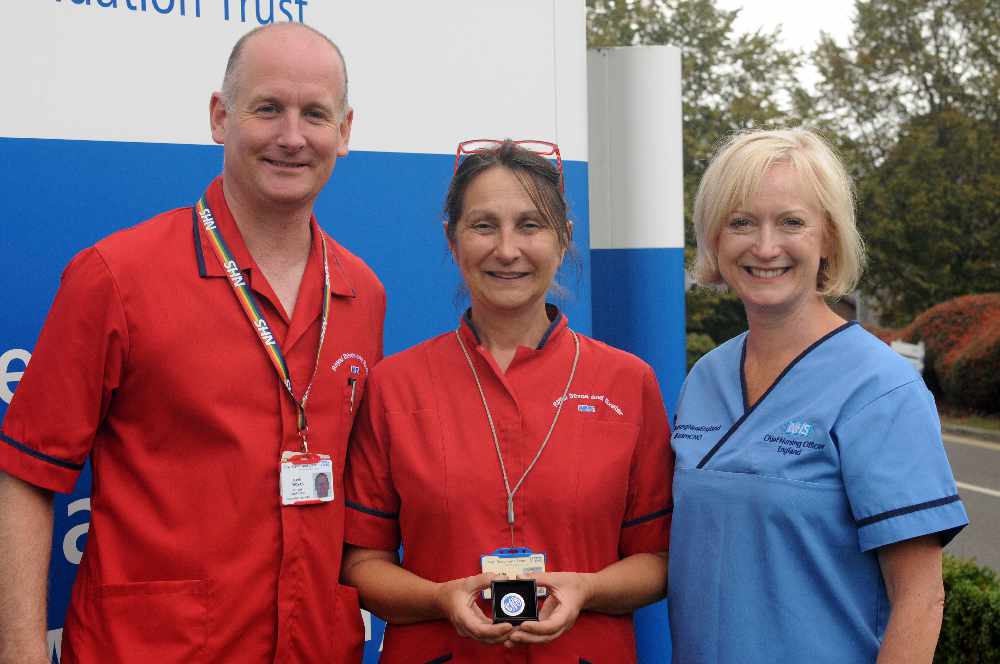 Tina Grose (centre), with the RD&E's interim chief nurse Dave Thomas and the NHS England's chief nursing officer Ruth May
Top award for RD&Es lead cancer nurse
A cancer nurse at the RD&E has received one of the country's top nursing awards for her contributions in improving patient care. Tina Grose, lead cancer nurse at the Royal Devon and Exeter NHS Foundation Trust, has received a prestigious Chief Nursing Officer (CNO) silver award from Ruth May, CNO for NHS England and NHS Improvement, during a visit to Exeter last week.
The CNO silver award recognises major contributions to patients and the profession for nurses and midwives, while the CNO gold award recognises lifetime achievements for nurses and midwives.
Tina was nominated by Zita Martinez, head of midwifery and assistant director of nursing at the RD&E, who says: "Tina has an unwavering and enduring compassion and, even under the most challenging of circumstances, never loses sight of the fundamental needs of patients, their families and the wider workforce.
"Tina has remarkable entrepreneurial vision which far surpasses mandated service expectations. Her knowledge, experience, skills and selflessness enable her to be an expert resource relied on trust wide; her calm diplomacy and non-judgemental approach amidst the busyness of life in a large acute hospital, ensures that the patient's voice is never lost."
Tina says: "I am overwhelmed at the kind words I have received since the award - I have been very lucky to have been given the opportunity and feel very privileged."