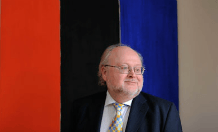 Sir Steve Smith, vice chancellor, Exeter University
The 31 year old was given a life sentence yesterday
Exeter University has thrown its weight behind jailed former student Matthew Hedges, who faces the rest of his life in a Middle Eastern prison.
Mr Hedges, 31, was sentenced on Wednesday in a five-minute trail in the United Arab Emirates. He'd been arrested in May at Dubai Airport on espionage charges. His family say he was conducting research for a post-graduate degree he's woking on at Durham University. He already holds a degree from Exeter, the city where his wife still lives and who now fears for his mental health. After a day in which his case was brought up in the House of Commons by prime minister Theresa May, the foreign secretary Jeremy Hunt has said he'll address the matter at the highest level, and Exeter MP Ben Bradshaw has described how he is "shocked and appalled", Exeter University has issued its own statement.
Vice chancellor Professor Sir Steve Smith said: "We are all deeply saddened, shocked and concerned by the life sentence given to Matt Hedges today, following his detention and trial in the United Arab Emirates.
"The health and welfare of Matt and his family and friends now, through the forthcoming appeals process, and beyond is our paramount concern, and we are committed to offering and providing every level of support, help and assistance we can through this inconceivably distressing and traumatic time for them.
"Matt was in the UAE to carry out legitimate academic research, and has an undoubted passion and concern for the Arab Gulf and its people. It is absolutely vital that academics the world over are free to conduct research without fear of interference or arrest.
"Exeter will continue to do whatever it can to ensure Matt and his family can return home as soon as possible, and calls upon the authorities to work actively towards securing his return."