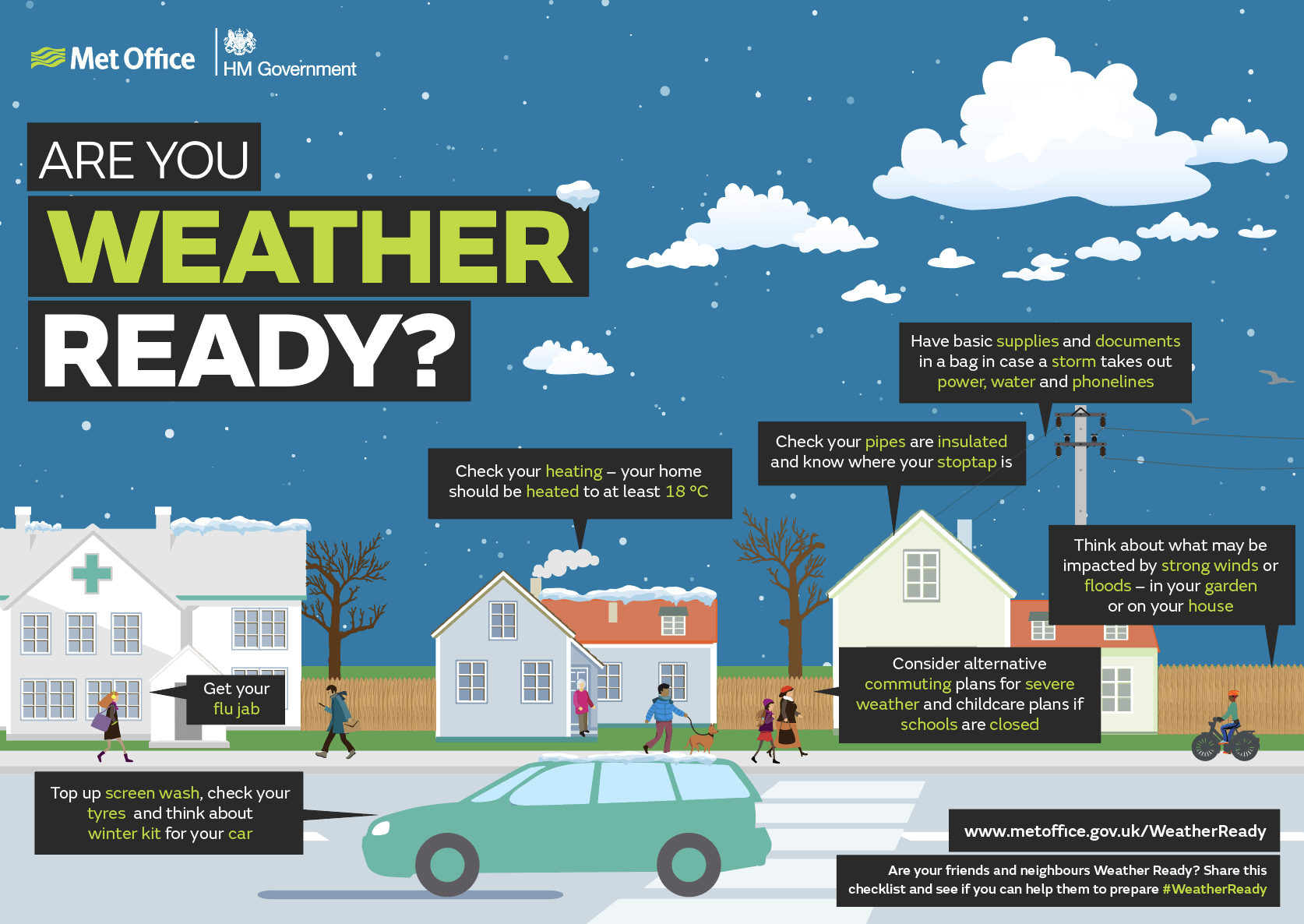 Image: Met Office
They're working with the Government to issue advice.
As temperatures just get above freezing this morning (Wednesday 21st November), Exeter's Met Office has released the results of a survey about how prepared we are for bad weather.
And the answer is...not very.
It found two thirds of us have been caught out by severe weather, despite 9 in 10 thinking that preparing for winter weather is important.
The organisation questioned 2000 people. They found:
More than 1/3 had experienced disruption to public transport
Nearly 1/5 confessed to being late for work
More than 1 in 10 said adverse weather had forced them to cancel social plans.
Working with the Cabinet Office, the Met Office is launching 'WeatherReady' to make sure we're all better prepared for big weather events.
It suggests:
Getting a flu jab
Top up anti-freeze screen wash, check your tyres and think about a winter kit for your car
Consider alternative commuting plans for severe weather and alternative childcare plans in case of school or nursery closures
Check your heating – your home should be heated to at least 18 °C
Consider how you would access vital information if a storm takes out power and phonelines
Think about what may be impacted by strong winds or flooding – guttering, pipes, roof tiles/slates, garden items and things stored on your ground floor.
Check your pipes are insulated and know where your stoptap is
Make sure you have basic supplies in case you have to leave home quickly or your power and water are disrupted
Share this checklist with your neighbours, see if they have any other tips and tell them if you can help in severe weather
ind out what else you can do to prepare yourself and your community for severe weather
Derrick Ryall, Executive Head of Public Weather Services at the Met Office, said: "With winter around the corner, now is the time to think about preparing for the potential impacts of severe weather. The Met Office WeatherReady initiative provides simple advice to prepare for and cope with winter weather, to help keep you, your home, your family and neighbours safe. On our website you'll find advice on vehicle checks for winter, maintenance tips to prepare your home and help avoid costly repairs and information on what to do in a power cut.
Oliver Dowden MP, Minister for Implementation, Cabinet Office said: "Last year we saw the impact severe weather can have on our services and communities. Our public services and emergency responders continue to prepare for severe weather as they do every year, but everyone can take simple actions to prepare themselves and support their friends and neighbours.
"This might mean having a flu jab, checking your vehicle and property are ready for the changing weather conditions, or offering support to your elderly or vulnerable neighbours. Thinking ahead can make a big difference if the weather takes a turn for the worse."
For more advice from the Met Office, click here.