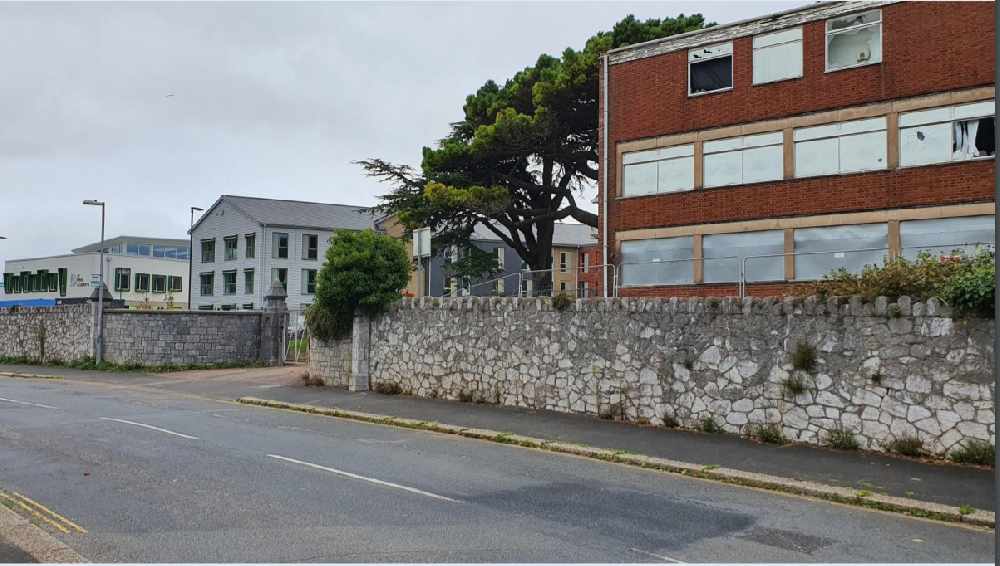 Redundant buildings, right, will go. The Deaf Academy stays (courtesy: East Devon District Council)
Rolle College's buildings to go
Thirteen years after it closed, councillors have approved what they say is "the best possible" redevelopment of the undeveloped part of the former Rolle College site in Exmouth.
After more than a decade as a redundant eyesore, the western side of the former further education campus comeback into use when Exeter Deaf Academy moved to the town.
Developers had sought planning permission for the demolition of a number of vacant buildings on the eastern side to provide 29 new homes, together with the conversion of the former student bar, a Grade II listed building called Eldin House into four flats.
East Devon District Council's planning committee unanimously supported the scheme, which they say is "a well-designed and well thought out residential scheme that would be positively contribute to the character and appearance of the area."
Development manager Chris Rose, recommending approval, added: "The existing site is vacant and run down and its number of derelict and vandalised buildings do detract from the character and appearance of the area.
"It is considered that the proposed design, layout and form of development has been largely sensitive to the topography of the site whilst addressing the complex constraints posed by the retained trees."
Cllr Mike Howe said: "This brings the building back into use. Yes, we lose some trees, but they are not the best quality trees, and if the officers thought we were losing good quality trees they would be screaming about it. This is far in advance of a lot of other developments, so I am happy to support this, and I cannot see how they could design it any better."
Cllr Olly Davey added: "It is a shame to lose the trees but if the officers feel the best we will get, I am happy to accept their view. This is the best quality we will get in the same within the constraints," while Cllr Philip Skinner said: "This is a scheme that works for Exmouth and the right density of housing in the right place."
The scheme will see the demolition of existing buildings for a residential development of 33 new homes, in a mix of 10 house and 19 apartments, as well as the four apartments in the former bar.