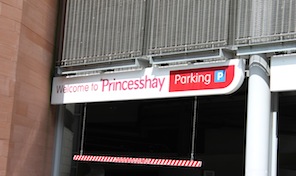 Some car parks are closed to the public.
Exeter City Council says three city centre car parks will be free of charge for key workers.
Howell Road, Magdalen Road and Triangle car parks are providing 24/7 free parking for designated key workers.
Mary Arches Street and John Lewis car parks have been closed.
The Guildhall remains open and is free for those visiting Sainsbury's in the adjacent shopping centre to collect essential food items and prescriptions.
Princesshay has said NHS staff can now park for free at the Summerland Gate Car Park.
The Department of Health is stepping in to make parking free for all NHS staff during the coronavirus outbreak.
Health minister Edward Argar has urged hospital trusts to give staff free-parking.
All NHS workers can now park for free at our Summerland Gate car park.

We would also like to add that our Princesshay 1 car park is now closed to the public and is only accessible to residents of Princesshay.

Stay safe everyone ❤️@RDEhospitals pic.twitter.com/J3khmkSbjS

— Princesshay (@Princesshay) March 25, 2020