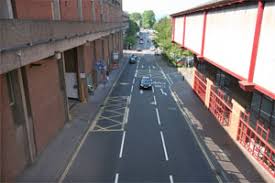 Harlequin Centre plan changed
There's not a jot to commend it at the moment - except arguably the entrance to the Harlequin Centre, a retail emporium that's struggled since opening in the eighties. Paul Street is thought many people, including influential people at Exeter City Council, to be Exeter's ugliest street, with the rear-end of everything.
Now plans for to turn the outdated Harlequin shopping centre into 'co-living' accommodation and a hotel have been change. Last November 2019, developers Curlew submitted their scheme targeting both young professionals and key workers looking for rental accommodation in the city centre. It would come with a 114-bed hotel too.
The proposals proved unpopular with residents though. Of the 260 comments made on the scheme, 255 were objections, with just three in support. Objections were raised by Devon Buildings Group, Exeter University historian Todd Gray, Exeter Civic Society and The Victorian Society.
Curlew's made some changes. The overall height of the two blocks they plan have been reduced by removing a floor from each of the tallest elements, while the block nearest the Iron Bridge will no longer feature co-living and will be exclusively for hotel use. They've cut co-living beds from298 to 259, and increased bedrooms at the hotel from 114 to 129 bedrooms. Construction will be to energy-efficient Passivhaus principles.
The footbridge that links the Harlequin Centre to the Guildhall shopping centre will be replaced, but not eliminated altogether, which was the original idea.
Greg Fox, senior development manager at Curlew said: ''We are confident that Exeter will recover quickly once we are past the current crisis, and schemes like ours will part of the catalyst for getting the economy back on track by providing jobs and new housing for key workers. We want to start work as soon as we can secure a positive planning consent."
They says they will improve the public realm in Paul Street, as well deliver as a new interactive interpretation centre for the nearby City Wall, which has been developed with the help of RAMM, and a 'pocket park' next to the Iron Bridge.