Shadow minister visits Derriford
A Plymouth MP is demanding "bigger thinking" by the government to address pressures on the NHS and to find an alternative to current GP-led system of healthcare.
Labour MP for Plymouth Sutton and Devonport, Luke Pollard visited Derriford Hospital on Monday with shadow minister for mental health and Labour MP for Tooting, Rosena Allin-Khan.
Mr Pollard said: "No matter how hard anyone in the NHS works, they can't fix this problem alone.
"That's why we need much bigger thinking from government to get the resources into places like Derriford [and] into Plymouth so we can start getting people properly discharged from hospital, creating the spaces, which means the people waiting in the ambulances can get seen properly."
He added that new and radical ways to manage the shortage of GPs in the city is needed.
"We're seeing more GP's hand back their contracts in Plymouth, so it's a real struggle to see your GP at the moment.
"So, let's have a new system of general practice that's not necessarily GP-led. It could be paramedics, could be senior nurses, could be physios to make sure that people are seeing the right medical professional, not necessarily a GP because we're short of about 60 GPs as a city at the moment."
Mr Pollard has previously highlighted the lack of NHS dentists in the region but said recent changes to dental contracts were too little, too late.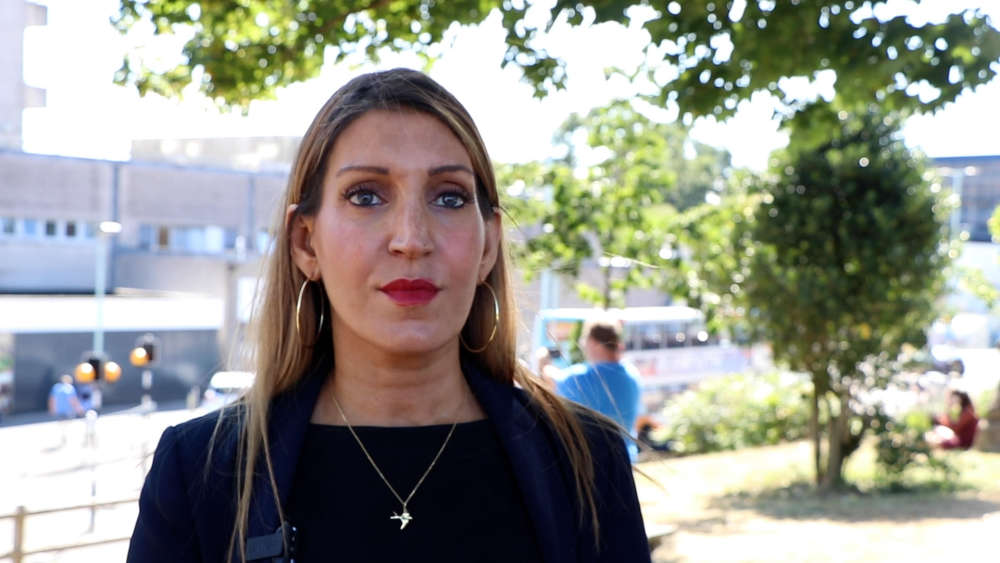 Dr Rosena Allin-Khan is shadow minister for mental health (image: LDRS)
The first major reforms to the dental contract in 16 years were revealed last month and mean NHS dentists will be paid extra for treating more complex cases, such as people who need three fillings or more.
And "dental therapists" will be able to accept patients for NHS treatments, providing fillings, sealants, preventative care for adults and children.
Mr Pollard said: "Belatedly, after 12 years of pretending there's not a crisis, they're finally getting around to saying some words about it.
"There's no funding. There's no real progression in changing the dental contract. We're seeing more dentists leave NHS dentistry moving to the private sector.
"Now we don't have enough dentists in Plymouth. We certainly can't afford to lose any more."
Rosena Allin-Khan outlined Labour's plans for the NHS and, in particular, mental health services.
"We have a plan which says over our first term in office we will recruit 8,500 mental health staff to ensure that people can be seen within a month of referral. That is a month!" she said.
"We're also going to guarantee a counsellor in every school because we know that currently the Conservatives are letting down a generation of young people when it comes to their mental health, not just their mental health when it comes to their opportunities in life, and also that we would ensure that there is an open access mental health hub in every single community."
Ms Allin-Khan, who also works as an A&E doctor added: "I have worked in our NHS under a Labour government and under a Tory government and I've never seen it like it is now."
But when asked about controversial private finance initiative contracts, introduced by the last Labour government, Ms Allin-Khan insisted it was the Tories who had let the NHS down.
A private finance initiatives (PFI) is a way of funding infrastructure projects such as hospitals by using private funding to pay for the upfront costs. It is then paid back over many years to the companies who financed the project - often at high interest rates.
Although first brought in the early 1990s under John Major's Conservative government, hundreds of multi-billion pound PFIs were introduced by Tony Blair's Labour government after 1997.
Some NHS trusts have been paying more out in PFI debts than on drugs.
Ms Allin-Khan said: "This is Tory Britain and I don't believe for a second that - when Labour get into government - that we won't fix this mess because it's only a Labour government that's going to do that.
"[The Tories] have had 12 years in order to make good on their own commitments, not Labour commitments, but their own commitments. And they have failed to do so at every point. And what they are trying to do now is put little sticking plasters over gaping wounds of their own creation."
The visit to Derriford Hospital by Mr Pollard and Ms Allin-Khan is the start of 'Luke and Rosena's Labour Target Seat Tour.'
The nationwide tour aims to cover all the seats Labour needs to win the next election, which is expected in 2024.
Mr Pollard explains his thinking on the NHS in the video here.