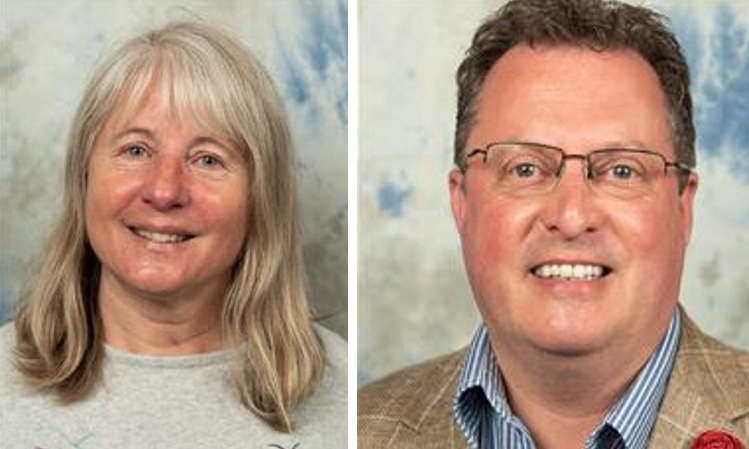 Councillors Yvonne Atkinson and Rob Hannaford (courtesy: Devon County Council)
Oh yes it is! Oh no it isn't!
Two Labour councillors have clashed over whether Airbnb has played a role in Devon's housing crisis.
The short-term rental website has been criticised during a full meeting of the county council. Leader John Hart (Conservative, Bickleigh & Wembury) said it was one of the reasons why the housing market in Devon has "distorted immeasurably" over the last two years, with private landlords switching to holiday rentals.
He slammed as "a nonsense" homeowners having "the right to turn their house and flip it into a business rate" – an option for property rented to holidaymakers for a certain amount of days a year, and thus not being eligibel for council tax.
However, Labour councillor Yvonne Atkinson (Alphington & Cowick), while acknowledging there was a housing crisis in the county, defended Airbnb and instead blamed the government.
"I can tell you that in Exeter, Airbnb provide a fantastic service to key workers and people who need short-term accommodation for working and studying," she said.
"They provide already-furnished accommodation to allow people to continue to work. They're not the problem – it's government policy which is the problem. So, we can't demonise Airbnb. We have to look at the government policy on this."
But the party's leader at county hall, Councillor Rob Hannaford (Exwick & St Thomas), disagreed "profoundly" with his colleague. He told the meeting: "There is a huge amount of evidence across the county to say that private landlords are flipping their properties – turning out people and families – to turn them into Airbnbs.
"And I'm sorry, if that means I've got to demonise them, then I will demonise them. It's a public meeting and I cannot let that go unchallenged."
Members from all parties backed the creation of a new 'strategic housing taskforce' to tackle the problem, in partnership with Devon's district councils and partners such as Homes England.
They also agreed to explore whether the council could offer accommodation to key workers to attract them to work for the authority, and to lobby MPs to press for tax loopholes on holiday rental homes to be tightened.
In response, a spokesperson for Airbnb said: "Across the UK, the majority of hosts share their own home and nearly a third of UK hosts say that the additional income is an economic lifeline.
"Travel on Airbnb is estimated to have supported over 3,000 jobs in Devon during 2019 with an economic impact of £150 million for the local economy.
"We take housing concerns seriously and have called for a nationwide registration system to better understand the impact of short-term letting activity on local areas, and an update to planning guidance to empower local authorities."