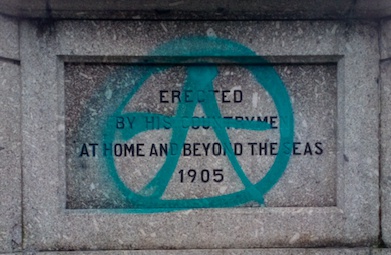 Graffiti tag on Sir Redvers Buller statue (courtesy: Adam Manning)
Graffiti yob hits Exeter landmark
A famous Exeter statue has been targeted by a graffiti yob.
The Sir Redvers Buller plinth was sprayed in the first days of the new year in a striking shade of turquoise. The circular 'tag' contains a letter A, and the entire symbol is just above flowers left in memory of an Exeter College student who died in a fall from the statue in 2017.
Devon and Cornwall Police directed enquires about whether a crime has been reported to Exeter City Council, which is responsible for removing graffiti. Some people consider graffiti to be criminal damage; others believe it to be art.
Sir Redvers was a Victorian military officer who later became Crediton's MP, and attended the unveiling of his own statue on New North Road in 1905, three years before his death. The inscription says "He saved Natal," which was then a British colony in the south-east of Africa after Britain annexed part of the Boer Republic. It led to much unrest over decades, which Sir Redvers was sent to quell. He is one of the few people to have ordered Winston Churchill's arrest, after Churchill, then a war reporter, questioned his tactics. After British troops were massacred by the Boers, Sir Redvers later took the rap when the government looked for a fall guy. Although he was pleased at the honour of the Exeter statue, some people in Crediton felt it was a snub that the horse's bottom points towards the Mid Devon town, not the city.