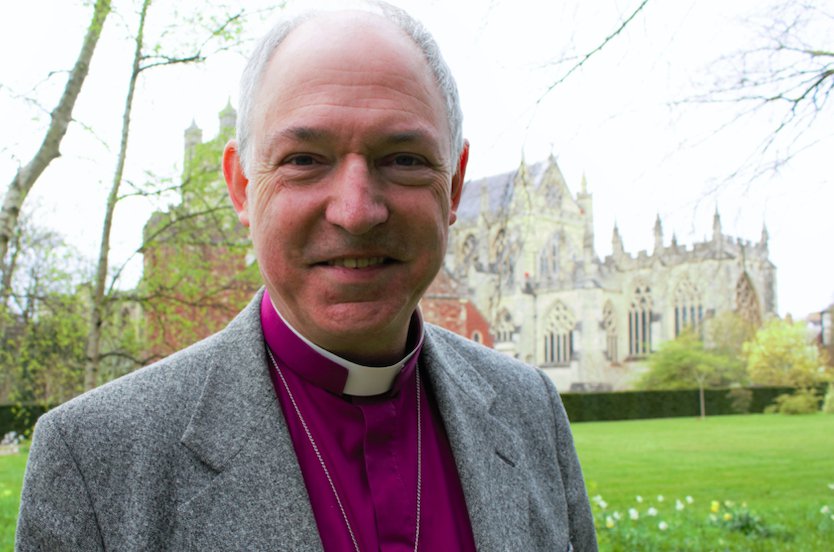 Bishop Robert Atwell
Church services banned from Thursday
The Bishop of Exeter says the forthcoming lockdown is a "body blow" but also a moment for people to "draw together in mutual support and renew our trust in God." Church services and weddings will be banned from Thursday until at least Wednesday 2 December, but church buildings can stay open for individual prayer and funeral services can still go ahead.
A number of other exemptions also apply; for example if church buildings are used to house food banks or run support groups.
Speaking on All Saints Day, Sunday 1 November, the Right Reverend Robert Atwell said, "For many of us, this second lockdown is a body-blow. However, we must not pull back in exhaustion or fear. Earlier in the year, we learned that it is by drawing on the well-springs of our faith and reaching out to those in need that we mitigate isolation and smooth the abrasive edges of lockdown.
"As Paul [an apostle] writes, 'We are hard pressed on every side, but not crushed; perplexed, but not driven to despair' (From the Bible, 2 Cor. 4.8).
"This is the moment to draw together in mutual support and renew our trust in God who journeys with us."
Under the new guidance, services can also still be broadcast from church buildings and many churches across Devon already livestream their services or pre-record them to post on social media.
The Church of England is expected to publish more detailed guidance for churches in the next few days.