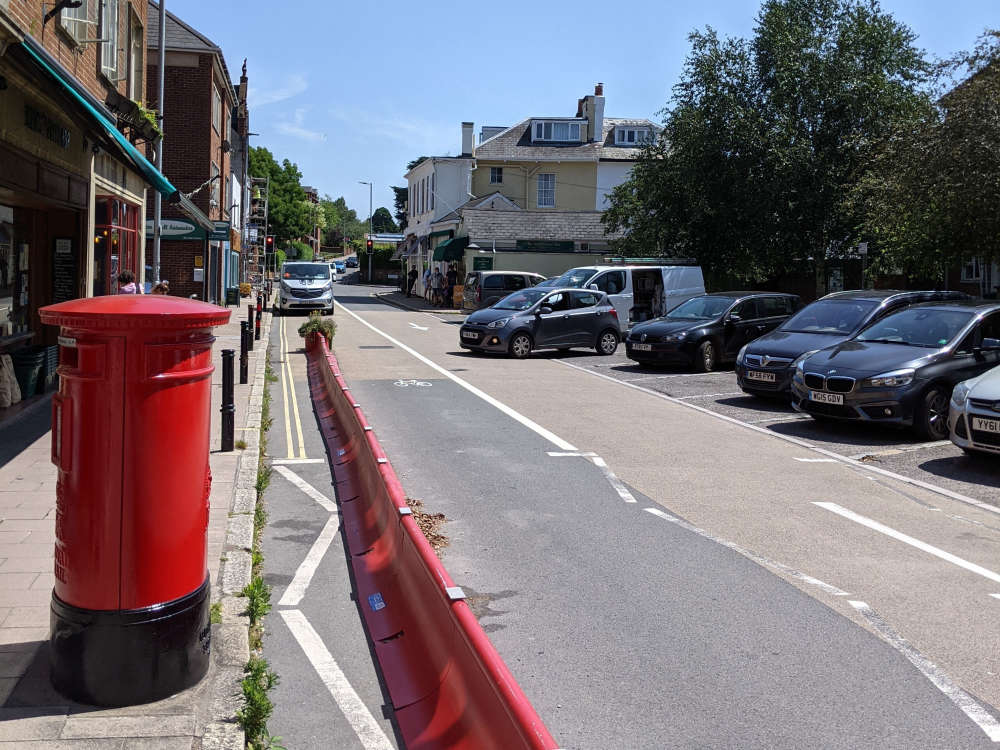 The temporary one-way along Magdalen Road, Exeter
Unless you're on a bike
The temporary one-way layout on Exeter's Magdalen Road is to be made permanent following a two-year trial which gained the support of three quarters of people who responded to a consultation.
Members of Exeter Highways and Traffic Orders Committee have agreed to permanently restrict traffic to one-way westbound and introduce a restricted parking zone on the road near Exeter city centre.
The area, which is noted for its independent shops and restaurants, became one-way in June 2020 to support social distancing and encourage cycling and walking.
Magdalen Road also forms part of the E9 strategic cycle route connecting the Newcourt/Pynes Hill area to the Royal Devon & Exeter Hospital and Exeter city centre.
In addition to restricting motor vehicles to one-way westbound between the junctions with College Road and Denmark Road, the new scheme will include a contra-flow cycle lane, a raised hump uncontrolled crossing point on Denmark Road, at its junction with Magdalen Road and restrictions to ban all parking and loading on some parts of the road.
A public consultation on the proposals was held early last year with over 1,500 responses received.
Nearly 75 per cent of respondents agreed with reducing through-traffic in Magdalen Road. However, only half the traders who responded backed the plans.
Councillors also approved plans to implement an Experimental Traffic Regulation Order (TRO) to extend the one-way restriction to the junction of Magdalen Road and Fairpark Road.
This trial aims to stop motorists from driving through Denmark Road when travelling from Western Way towards Heavitree Road and would be put in place after the completion of the permanent scheme for Magdalen Road.
The scheme is expected to cost approximately £900,000, half a million pounds of which will come from the Department for Transport. Funds from the county council's local transport plan will make up the rest.
As well as approving the Magdalen Road plans, the committee approved changes to nearby Chard Road, permanently closing it between Nicholas Road and Whipton Lane.
The move is designed, in part, to attract more cyclists and improve the amenity of the area.
The changes will also see the introduction of 'no waiting at any time' restrictions next to the closure point, to ensure cyclist can pass the closure point safely.
The construction of the Chard Road scheme is expected to cost up to £10,000, which will be funded from the £1.35 million grant awarded by the Department for Transport Active Travel Fund.
Both the Magdalen Road and Chard Road schemes will go before Devon County Council's ruling cabinet to be signed off today, Wednesday 8 June.