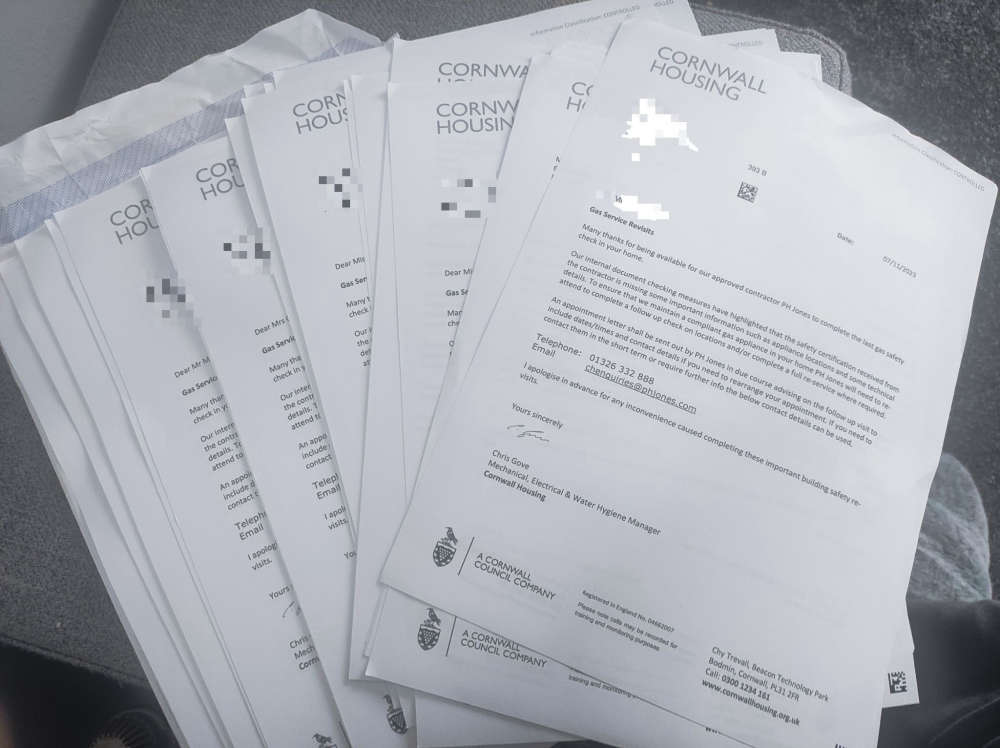 Data breach by Cornwall Council
A housing tenant has said he is shocked at a serious data breach by Cornwall Council after he was sent letters meant for over 100 other Cornwall Housing residents.
The resident, who wishes to be known only as Hayden, who lives in south east Cornwall and does not want to give his surname for safety reasons, sent us a photograph of the letters featuring the names and addresses of 123 other tenants of Cornwall Housing. We have pixelated the picture to hide the identities of the other people.
He received the bundle in the post. Hayden said: "I received my mail in the post, amongst it was a thick looking letter from Cornwall Housing. I opened it and was shocked to see that there was not only the letter addressed to me, but over 100 different variations of the same letter just with different names and addresses. This is a serious data protection issue."
The package included 61 double-sided pages and one single-sided page, all addressed to 123 different Cornwall Housing residents, based across the Duchy. The letters contain details about arranging visits by a gas contractor.
Hayden said he rang Cornwall Housing letting them know about the serious data breach. As of 12.45pm, when he contacted us, he still hadn't heard back from the housing arm of Cornwall Council.
He was actually due a visit by an area housing manager at noon today and was able to hand her all of the letters.
Hayden added: "It's shocking. I could 100 per cent see the full name and address of the tenants on the letters, they were double sided and had a different person's details on each side."
When approached about the incident, a spokesperson for Cornwall Council said: "Every incident of a potential data breach is treated extremely seriously and thoroughly investigated to minimise any possible harm and to find ways of preventing it happening again. Procedures are regularly reviewed and changed in order to reduce the risk of data loss."