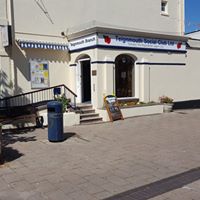 Teignmouth Social Club (source: club's Facebook page)
Two treated for smoke inhalation
Fire crews from Teignmouth, Torquay and Newton Abbot, together with paramedics, have been at a fire at Teignmouth Social Club on Friday evening. They were called around 5.30pm to a blaze in the second-floor kitchen of the four storey end-of-terrace building on Dens Crescent.
The entire floor has been extensively damaged by heat and smoke, and two men in their fifties were caught up in the incident. They've been treated for smoke inhalation.
They're reported to be the only casualties. The fire took an hour and a quarter to bring under control and was caused accidentally.
On its Facebook page, the club says it will be closed until further notice and has thanked everyone for their help and support.