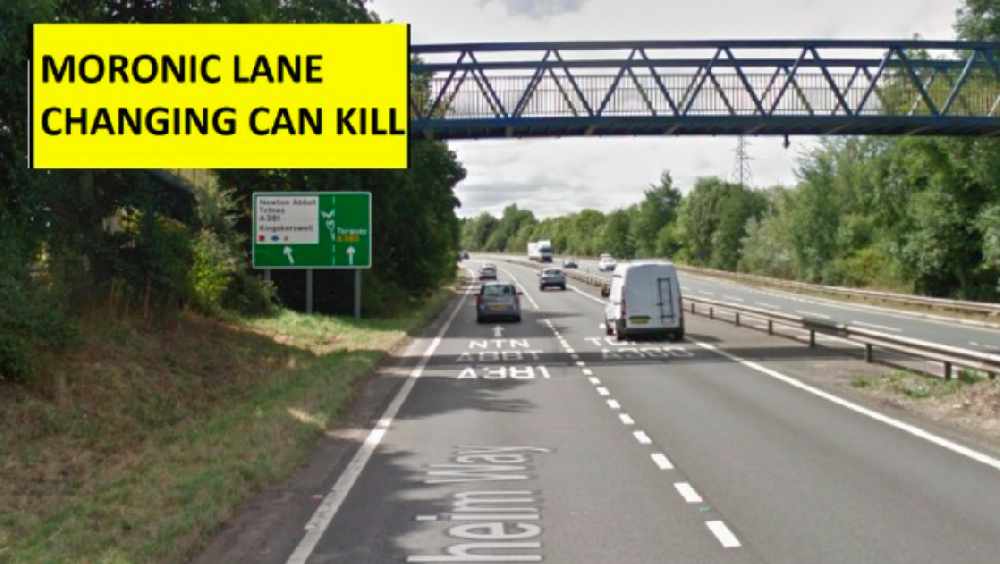 'Death trap' approach to South Devon Highway should have 'Moronic Lane Changing Can Kill' signs installed
'Moronic Lane Changing Can Kill' are the words that should be on signage on the 'death trap' South Devon Highway.
Councillor Gordon Hook has called for 'a real warning sign' to be placed on the approach to the Penn Inn roundabout as the increase in accidents on the section of road is reaching 'epidemic proportions'.
Average speed cameras will be installed on the South Devon Highway itself early in 2019, while the 70mph speed limit on the southbound approach to the Penn Inn will be slashed to 50mph.
Councillor Hook says: "More accidents this week on the approach to Penn Inn mean the road's reputation as a potential death trap continues to grow.
"I know speed limits are coming down and that will be a positive, but signage remains my concern.
"More than 90 per cent of the traffic incidents are being caused by poor driving by local residents. Last minute lane changing and simply irresponsible driving are putting lives at risk.
"Clearer signage must be positioned earlier on the approach to Newton Abbot from the Exeter direction, clearer and more 'impactful', if I can put it that way.
"In addition to the standard instructional signs I would again urge a real warning sign along the lines of 'Moronic Lane Changing Can Kill'.
"While I'm not sure that will be accepted, it is something of that nature that is required in my opinion, but I do request urgent and early action on this accident black spot."