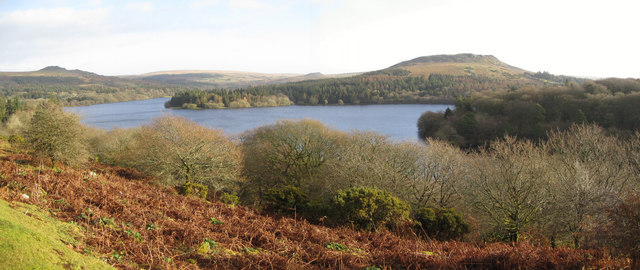 Burrator Reservoir with Sheep's Tor in background (courtesy: Colin Vosper/Geograph)
Reservoir phone plans sunk
Plans for a telecommunications mast designed for EE's emergency services network at a Dartmoor beauty spot have been rejected as it would "destroy" the area.
EE's proposal for a 25m lattice with two antennas at Burrator Reservoir is part of the national upgrade programme for emergency services' communications. The Home Office wants a new past and coverage upgrades in the area.
But the Dartmoor National Park Authority development management committee agreed with recommendations to refuse the scheme due to the unacceptable impact on the area.
Supporting such refusal, Diana Moyse said: "Local residents fear the appearance is too damaging to make it worth it for so little coverage of the road around the reservoir. Burrator is a lovely area and this installation will destroy it."
Planning officer Phil Twamley said that while the authority remains committed to helping improve coverage, the proposed site would have an adverse impact on the vicinity that includes two locally significant heritage assets. Chris Hart, planning team manager, added: "We don't challenge the need but we need a solution that suits the National Park and the protected landscape, and officers don't think this is the appropriate solution at this time."
But Norman Gillan, speaking on behalf of EE, said that as well as the emergency service network, the mast may offer a 4G mobile service to local EE customers, providing access to digital services that are increasingly essential to everyday life and business, and a 999 service to all mobile users. He added: "The Home Officee require coverage around the reservoir and the requirement will not go away until it is met, and the public benefit is that provides vital services for EE and emergency services."
The committee voted by 12 to 3 to refuse the scheme.