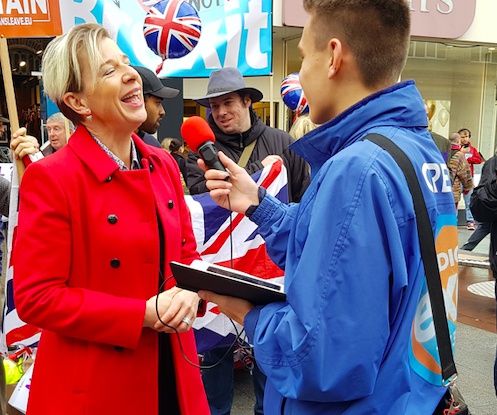 "The media isn't covering the Leave campaign" Katie Hopkins tells a reporter covering the Leave campaign (photo: George Manning)
Leave campaigners not all old and dying, claims Katie Hopkins
Leave campaigners who gathered in Exeter on Saturday span the spectrum of society, according to TV controversialist Katie Hopkins, who lives in the city and took to a megaphone in the High Street to rally for the Brexit cause.
Three key groups, right wing political party UKIP, hard Brexit lobbyists Leave Means Leave and a lesser known one called For Britain, called for the protest. It came nine days ahead of MPs' "meaningful vote" in the House of Commons, in which prime minister Theresa May is widely expected to lose the vote for the government's deal for withdrawing from the European Union.
Talking to Radio Exe ahead of giving a television interview to ITV, Ms Hopkins bemoaned the lack of media coverage for Leave campaigners in Exeter (although Radio Exe had not been informed of the event) and that the city's MP Ben Bradshaw would not turn out on a wet Saturday: "because it's raining and he might get a bit of a frizz and that's upsetting for him."
Around 30 protesters gathered at any one time on the pavement opposite St Stephens Church. Second year Exeter University student Sebastian Schesh said: "We need to leave the EU and we're not leaving the EU if we stay in the Common Market. What we see in the media is a lot of left-wing marches and Remain marches in town but as a Brexiteer it's good to see people fighting for a genuine Brexit and that the silent majority doesn't have to be silent."
At one point, Katie Hopkins was out-ranted by Devon County Councillor Emma Brennan (Labour), who branded her "a racist...who no one wants to hear from." Councillor Brennan - angry at the media for providing the Brexit campaigner with a platform for her views - held her phone up for the camera with a message calling for a People's Vote.
Ms Hopkins told Radio Exe: "We keep hearing that Exeter voted Remain, but the rest of the westcountry - 1.7 million people - voted Leave. The westcountry voted Leave. And we're challenging that idea that all vote leavers are drinking from a can of Stella at 7am, they're tattooed, they're racists, they're all old, white people. Well actually if you look around here there are some young people too, as well as some very smart old people.
"I've heard some Remain people say that Leave doesn't matter because half the people who voted leave will be dead. Well we're not dead. This lady's not dead. She's not going anywhere. And that's why we're here as well: because old people deserve respect and they deserve to be listened to."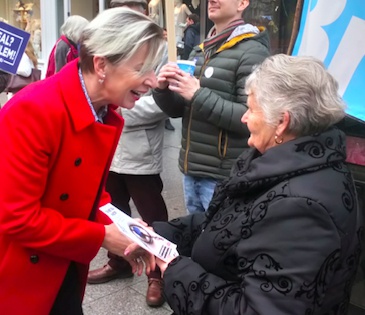 "Look, this lady's not dead"