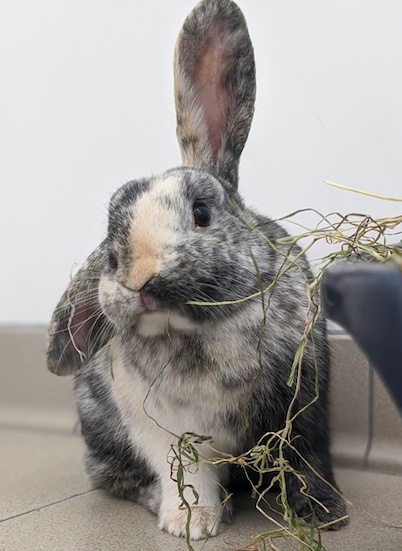 Put your ear up if you agree with the motion (courtesy: Animals in Distress)
Charity pulls rabbit out of hat
Here's a way to brighten up a dull business meeting; start it with a rabbit. Or, if bunnies are not your thing, cats and dogs can be there for you too.
Devon charity Animals in Distress at Ipplepen's belter of a lockdown fundraising idea means a lovely pet can join you for the first 10 minutes of your video-conference meeting.
For just a fiver, your can expect "lots of cuteness and feelings of joy; some head-butting of the camera; a deep interest in your meeting (dogs love meetings); a feigned disinterest and snooty aloofness (cats, obviously); pretty much non-stop eating throughout, or throwing things about in their pen and making a right mess (rabbits)." Not least you'll enjoy a feeling of happiness for the rest of your day after the meeting.
Rowana Rowan, fundraising and communications officer, said "This is a new fun service that we are offering to people stuck at home in these unprecedented times. We want to bring some joy into people's lives, as well as showcasing some of the animals we have at our rescue centre hoping to find new homes after lockdown, and raising some vital funds for the animals at the same time.
"We want to stress that this service is just for fun, and does not form a part of our rehoming service – however if you are interested in adopting the pet at your meeting, we can talk to you afterwards about the animal and how to apply."
To find out more about this novel service see https://Bit.ly/AiDPetsOnZoom