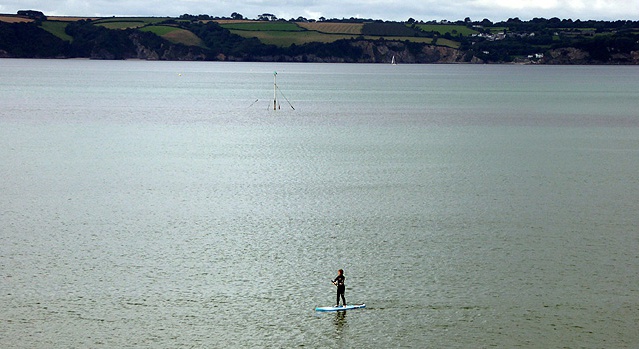 Paddleboarder (file image courtesy: John Lucas/Creative Commons)
Coastline off Budleigh Salterton scoured
Three lifeboats and a helicopter searched an area of Lyme Bay off Budleigh Salterton for several hours on Tuesday evening after reports of concern for a paddleboarder 2.5 miles off Budleigh Salterton.
The coastguard altered the RNLI at Exmouth around 7.30 p.m. as dusk fell. Both the inshore lifeboat and all-weather boat launched minutes after the call, undertaking an extensive, detailed search of the vicinity in which the paddleboarder was last sighted. RNLI volunteers were joined by members of the Exmouth Coastguard Rescue Team, the Sidmouth Independent Lifeboat Pride of Sidmouth and an H.M. Coastguard AW-189 helicopter, Rescue 187.
The search was called off just before midnight. No one has yet been reported missing.
RNLI safety advice for paddleboarders can be found at: https://rnli.org/safety/choose-your-activity/stand-up-paddle-boarding