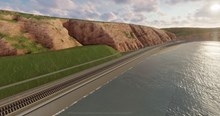 Plans have been unveiled today to move the railway line near Teignmouth out to sea.
The stretch was closed for six weeks in 2014 after a landslide and Network Rail says it needs to be better protected from cliff falls and damage from the sea in future.
Work has just got underway on a bigger sea wall at nearby Dawlish, but Network Rail also wants the line near Holcombe to be more reliable.
They're proposing to move it away from the cliffs.
The plans will go on show at the Avenue Church in Newton Abbot this afternoon....they'll be at Dawlish Town council offices tomorrow.