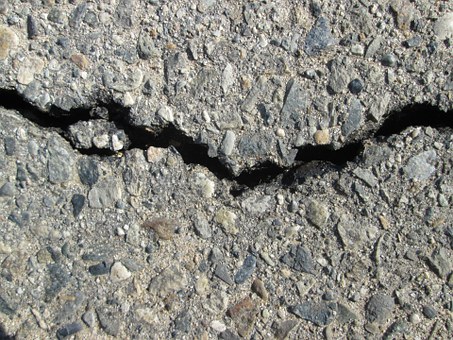 Mayor says the budget has to be cut
The 15 per cent cut to this year's £2.1m budget is in the elected mayor's plan for the council for the next financial year from March.
Members of Torbay's Priorities and Resources Review Panel were concerned about the impact of reducing spending by £320,000 on roads maintenance, including pothole repairs.
Councillors heard at a meeting the overall condition of the roads network in Torquay, Paignton and Brixham was getting worse.
It would cost £20m to catch up with the road repairs backlog to bring the network back to how it was in 2008.
Mayor Gordon Oliver said Torbay should be getting £3m each year for roads maintenance, and he told the committee he was asking MPs to support an approach to Government for the cash.
He said: "As you are well aware, Austerity is still with local government. It has not changed."
Councillors heard Torbay received an extra one-off grant of £646,000 from the Government in the October budget to spend on potholes, but the way money was allocated in future was under review.
Cllr Robert Excell, executive lead for community services, said the roads maintenance budget had dropped by 40 per cent over the last few years – £2 in every £5 of spending had been lost.
He said: "The council has the responsibility to make sure roads are kept in good order as far as possible, but due to the Government cuts over the last four or five years, that unfortunately has not been possible."
Committee chairman Chris Lewis was concerned about a reduction in spending next year leading to bigger problems in the future.
And he said one of the worst roads in Torbay was Great Headland Road in Paignton, in his Preston ward.
He said: "I know there are a number of roads that have not been resurfaced that should have been done."
Cllr Lewis added: "It is all very well cutting this year – and we did it last year – but if in three years the roads are impossible to drive down, we are going to end up with an enormous bill."
The mayor's budget report, proposing the £320,000 cut in highways maintenance, warns: "The Highways maintenance budget is only sufficient to cover reactive repairs and, due to the reduction in investment into planned maintenance over previous years, these reactive costs are increasing year-on-year.
"A reduction to the highways budget of this size will potentially leave insufficient revenue funding to carry out the level of reactive repairs expected as the condition of the highway network continues to deteriorate."
The council is having to make £17 million pounds of savings by 2022, with £7.5 million needed in the next financial year 2019/2020, due a reduction in Government funding and increasing costs in adult and children's social care.
Mayor Oliver said at the launch of consultation on the proposed budget for next year that statutory services to protect the vulnerable and core services such as waste collection were being maintained, and extra cash was going in to meet rising demand for children's social care.
He said: "We have to protect services that we need to deliver by law, which quite rightly support the most vulnerable people in our communities, but this requires finding efficiencies in other areas.
"The latest draft budget proposals will have an impact on local residents, visitors, our communities and service users, and if I had a choice I would not be proposing to make these changes."
The budget consultation continues until Friday, December 14, and people can comment via the council's website at https://www.torbay.gov.uk/council/consultations/budget-consultation-201920/