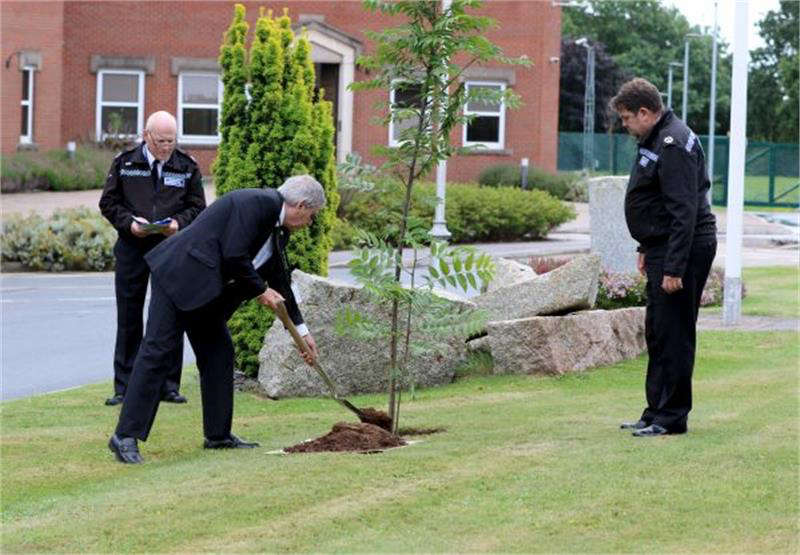 Middlemoor to be illuminated till Sunday
On the day when a ceremony was held for the new police memorial at the National Memorial Arboretum in Staffordshire, Devon and Cornwall's force has conducted a dedication ceremony of its own in Exeter.
Assistant chief constable Steve Parker planted a new tree in the memorial garden at police headquarters at Middlemoor in a service led by the force lead chaplain Rev Jonathon Ross-McNairn.
And until Sunday 1, the front of the HQ will be illuminated in memory of officers and staff who have lost their lives.
Chief constable Shaun Sawyer couldn't attend the Exeter event; he was representing Devon and Cornwall at the national ceremony, alongside a bereaved family of one of the force's officers. Members of the royal family, the prime minister and other politicians were also there.
Mr Sawyer said: "This commemoration marks our tribute to the brave officers and colleagues who have served their communities and tragically lost their lives. We will continue to remember them and their selfless devotion to duty, as they leave behind a lasting legacy.
"Locally, it is important that we also mark this important occasion which is why we have held tree planting ceremonies in Devon and Cornwall."
Police and crime commissioner Alison Hernandez and assistant chief constable Julie Fielding also planted a tree at Bodmin police station. Ms Hernandez said: "It's a real honour to be marking this moment by planting the memorial tree at Bodmin police station. This landmark will live on for generations and act as a constant reminder of the sacrifices of those who came before us.
"It will leave a legacy for Devon and Cornwall and ensure that those who paid the ultimate price will not be forgotten."
s.