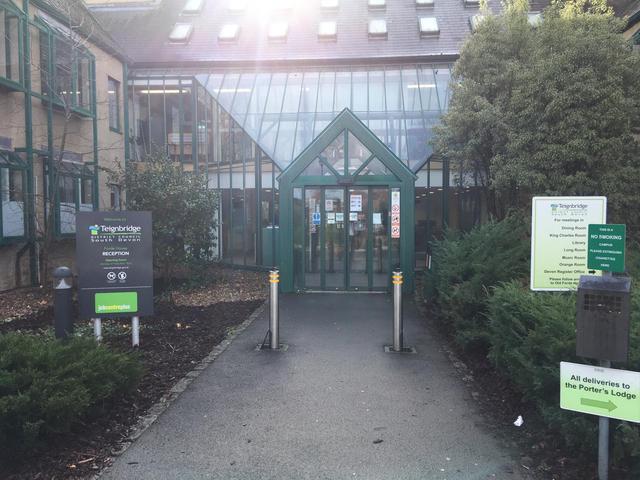 Teignbridge District Council's HQ
Conservative leader asked to denounce "intimidation"
Police are investigating reports that the son of a prominent Teignbridge politician sent threatening messages to a councillor.
Cllr Liam Mullone (Newton Says No party) has reported comments allegedly left on Cllr Mullone's Facebook page by Andrew Bullivant, the son of Conservative leader on Teignbridge District Council, Phil Bullivant.
The comments are understood to have involved allegations of unfounded criminal behaviour by the 'Newton Says No Group' that Cllr Mullone leads, as well as threats towards him. One comment is believed to have said: 'I know where you live… we are going to literally f*** you lot up you bull****ing thieving b****rds.'
Cllr Mullone has said that he takes the threats seriously and has called for Cllr Bullivant to step down from his role because he hasn't condemned the action and harassment allegedly made against him.
He said: "Cllr Bullivant, when asked to simply disavow his son's lies and threats, merely said that I was 'reaping the whirlwind'. By which he seems to mean that you should expect threats and intimidation if you question his tactics.
"We raised a legitimate concern: that his son was friends with the lead developer and the lawyer advocating for NA3 – people the council had to fight, at massive public expense, in judicial review – and asked whether this was healthy. We did it through the proper channels. And the price for asking questions, apparently, is sanctioned intimidation.
"My problem, and that of my group, was entirely with Cllr Bullivant and the fact that you advocated for, and voted on, a development that would directly benefit your son and his friends. We had the right to raise this conflict of interest and we did it via the proper channels. We reluctantly accepted that you are allowed to do that. We left it there."
He added: "It was your son who decided to spring to your defence and take this into all-out war, and to continue with it, and you seem to think that this is all right and proper, because we dared to question you in the chamber?
"I have to take threats seriously because I have a family, but I'm not bothered about the insults. I showed them to the whole council mostly because I find the hypocrisy sort of funny.
"Last year I wrote about chocolate cake at a planning meeting on Facebook. Someone commented 'I hope they choke on their cake' and I 'liked' that comment. That was enough for the executive and officers to pursue me for six months, subjecting me to a standards hearing and splashing my name in all the papers saying that I had 'incited violence'.
"They pretended to feel threatened by my cake story they spent £5,000 of public money and concluded that I'd brought the office of councillor into disrepute. So it's hilarious that now the leader of Teignbridge Conservatives is standing squarely behind the comment 'I know where you live… we are going to literally f*** you lot up you bull****ing thieving b****rds'."
But Cllr Bullivant said that he had no plans to step down from his role, the allegations of impropriety by him have not been proven, and that Cllr Mullone and his colleagues have previously resorted to attacks on those in favour of the NA3 development, including the 'Rogues Gallery' set up on their website before their election to the council.
Cllr Liam Mullone leads the Newton Says No party
He said: "In his attempt to justify fighting the NA3 development, Liam Mullone and his colleagues have resorted to a series of attacks against anyone who has a different opinion or believes in delivering the homes approved under the neighbourhood plan approved in 2013.
"The often vicious and malicious attacks have been made without recognition or acknowledgement of the facts and seem designed to vilify Teignbridge District Councillors, Teignbridge Officers and anyone who dares to question the NSN narrative.
"The allegations have been treated very seriously by Teignbridge who have incurred considerable costs in having independent examination of the facts and in every case found that the tactics employed by the NSN group have lacked credibility and have never been based on the true facts."
He added: "In my case, they tried to implicate my family and I in a planning issue affecting part of NA3.
"Despite my adhering strictly to the full code of conduct and taking no part in any debate over the application and withdrawing from discussions during the debate, NSN then accused me of taking part in a debate over a different application, from a different land owner with a different team of advisers that had or has no connection with me or my family. This issue, because of the serious nature of the allegation was referred by me to the legal team of Teignbridge to conduct an independent review and establish the true facts.
"The resulting investigation carried out by a qualified person with no association with Teignbridge or any political party was completed last year and found that there were no conflicts of interest, and that the correct declaration of interest and actions had been taken and I had fully met the requirements of the Council.
"The matter was also passed by NSN to the police who confirmed no offence had been committed."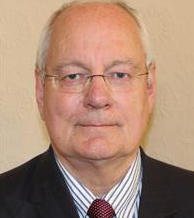 Cllr Phil Bullivant is the opposition Conservative leader on Teignbridge District Council
Cllr Bullivant continued: "Despite the evidence, the in depth investigation, the lack of any link between the two planning applications the latest desperate moves by NSN and their supporters to move attention away from their actions is very concerning, particularly to anyone who believes in the truth.
"Their latest attacks seek to implicate my son, an estate agent who practices in Plymouth and Bristol because he has an unconnected professional relationship with one of the parties that brought forward the application that I declared an interest in and therefore took no part in discussions or decisions is not worthy of comment as the fact speak for themselves.
"NSN would do better to look after the interests of College and Ambrook wards rather than pursue their vindictive and aggressive agenda designed to sully the reputation of and bring down Teignbridge District Council."
A police spokesman said: "Police are investigating reports that threatening messages were sent to an individual in Newton Abbot between November 11, 2020, and January 25, 2021. Police enquiries continue."