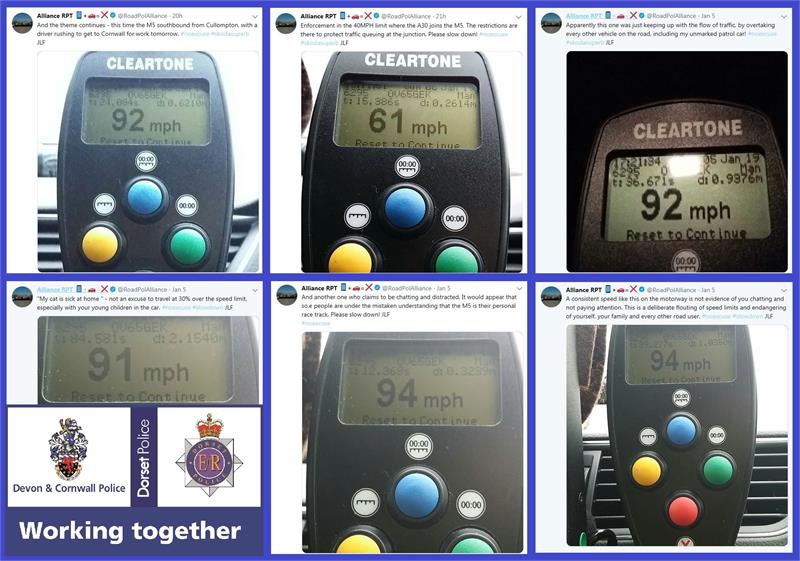 It'll take place over the next 2 weeks.
Devon and Cornwall Police is holding a fortnight long campaign called "no need for speed".
During a similar campaign over Christmas and New Year, these are just some of the excuses they were given by speeding drivers:
The highlights from the Alliance Roads Policing team's activity in the first week of 2019 alone (see photo montage) supplied the following gems:
"Keeping up with the flow of traffic" when having just overtaken an unmarked police car and everything else (92mph)
"My cat is sick" (91mph, with children in the car)
"In a rush to get to my girlfriends house" (101mph)
"Didn't realise I was going that fast" (100mph)
"Chatting and distracted" (94mph)
Marcus Laine, Operations Manager for the Peninsula Road Safety Partnership: "In future we may operate for short periods without using camera warning signs at sites which have been assessed locally as needing an intervention, and require us to deploy in the short term.
"If the site continues to be used the partnership will consider adding camera warning signs to further improve compliance."
Alison Hernandez, the Police and Crime Commissioner for Devon and Cornwall, is the national lead for road safety for the Association of Police and Crime Commissioners.
She said: "The new No Excuse roads policing team, coupled with the partnership's work, means speeding drivers are less likely to be able to get away with endangering their lives and the lives of others.
"In 2017, the last year for which there are figures, there were 1,616 reported accidents in Devon and Cornwall and 63 deaths on our roads, this is simply unacceptable.
"I think it's absolutely right that the mobile speed cameras can appear without warning anywhere on our roads – whether they be major routes or smaller rural locations where we know a disproportionate number of serious collisions occur.
"The simple message to drivers is that if you don't want to be penalised for speeding, stay within the limits."
Officers will be targeting the Fatal Five over the next 2 weeks. They are: