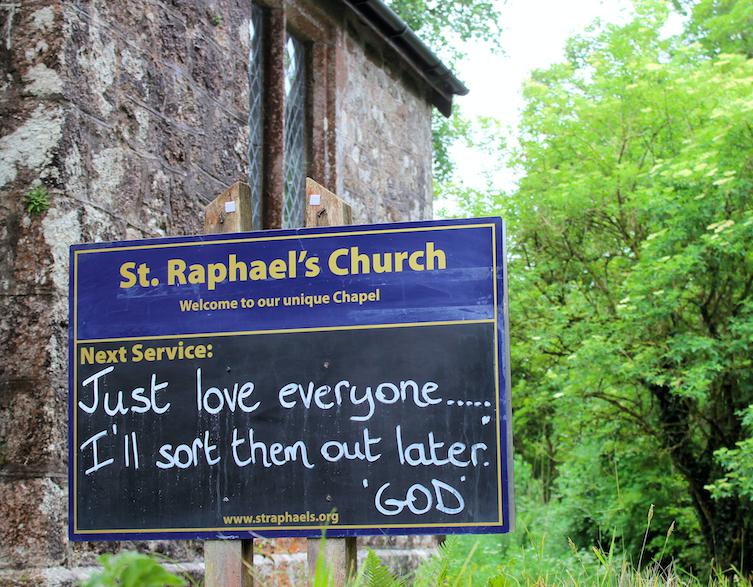 Even God's got a sense of humour (courtesy: St Raphael's Church, Dartmoor/ Diocese of Exeter)
Pray today. Have a funeral Monday.
Churches across Devon start reopening from Saturday, but it's not quite business-as-usual.
Church buildings have been closed completely since March as part of the coronavirus lockdown. Some of the county's 600 churches are open for people to pray privately on the first day; others will throw open the front doors from Monday, when you can also have a church funeral again. Weddings and baptisms will have to wait.
It will be up to individual churches to decide how many people can be in the church at a time - and you can only pray on your own. It's too soon for collective worship. Exeter Cathedral will reopen at noon on Monday.
Around half of vicars in Devon who took part in an online poll said they were planning to open at least one of their church buildings next week.
Father Nick Debney, from St Luke's Church, Newton Abbot, is delighted that churches can now open. "A church building exists to serve the community and for a while they had to be closed. To be open again is a move in the right direction.
"There is a sense that the lockdown has helped us reconnect prayer with the home, now is a chance to reconnect prayer with the house of God. This Sunday is the feast of Corpus Christi (the body of Christ), so it's great timing."
The Right Reverend Mark Rylands, from the Ashburton and Moorland Mission Community, is planning to open several of the churches. Prayer trails have been created around the churchyards and there will be "prayer stations" offering ideas about how to pray inside.
He said: "People have missed being able to come into church and spend time praying or reflecting. For some people it is a spiritual yearning. God welcomes everybody for prayer."
St Raphael's Church on Dartmoor is a popular destination for tourists and day visitors. For that reason the churchwarden, Tony Parker, is planning to open it on Mondays and Thursdays to allow time for cleaning in between.
The Reverend Tanya Hockley-Still from St Mark's Church in Exeter said she was planning to follow a similar pattern, opening for a couple of hours twice a week.
During the lockdown there has been a surge in the number of people taking part in online church services. Both Nick Debney and Mark Rylands have been broadcasting live and recorded services online via Facebook and Youtube.Nick said for him it is not "either/or" when it comes to worship online or in church. "It's AND. They are all tools in our mission toolkit to reach people," he said.