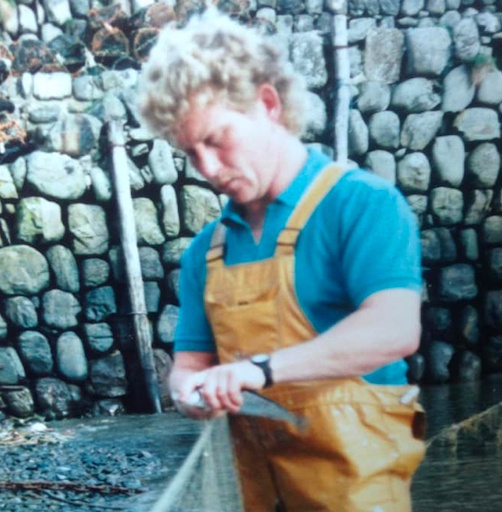 David Gist was senior helm on Clovelly's lifeboat
Anniversary of Devon fishing boat loss
Twenty years after the death of a fisherman off the North Devon coast, his son has joined the RNLI to save lives at sea.
Mark Gist, was 34 and senior helm of Clovelly's lifeboat when the fishing boat 'Blue hooker', on which he was working, sank. His friend David McBride (pictured below), who was 54, also died in the incident on 12 November 1998.
Now Sam Gist, who's 26, is a helmsman on Clovelly lifeboat. He says it provides him a close connection to his father, who's his hero. He says: "I lived just 2 doors down from the Clovelly lifeboat station during my early childhood. It has always been a part of my life and it runs in my blood. My dad was a Clovelly fisherman who, along with his friend, lost his life on a fishing trip in rough seas when I was six. My dad and two of my uncles played big roles at the station, as soon as I was old enough to join as crew I was there and I've been there ever since. Part of what makes the crew at Clovelly so special is the pride and passion of the all volunteer crew, a crew that I am honoured to be a part of. I am now a helmsman and the crew are like my family (some are my family!). When I am on the boat I feel a strong connection to my dad. He was also a helmsman of the Clovelly lifeboat whilst it was a privately run station in the early 90s and when it became a part of the RNLI and he remains my inspiration. This year marks 20 years since my dad passed away but his presence is always with me and there's not a single time I set foot into the station without looking up to my hero watching over us'.
Dan Garnett who still lives in the village, was a friend and fellow crewman remembers "Mark was Clovelly. A real Clovelly fisherman & lifeboatman. I am proud to have served with him. He had respect in the village & at sea. His legacy lives on"

On Sunday, Sam and his brother Max, along with cousin Luke Gist and crewman Lee Brett, returned to the area where the boat was lost and laid flowers. Clovelly's RNLI says its thoughts are with Sam and his family on a difficult day for them.
David McBridge was on 'Blue Hooker' which was lost off Clovelly in 1998