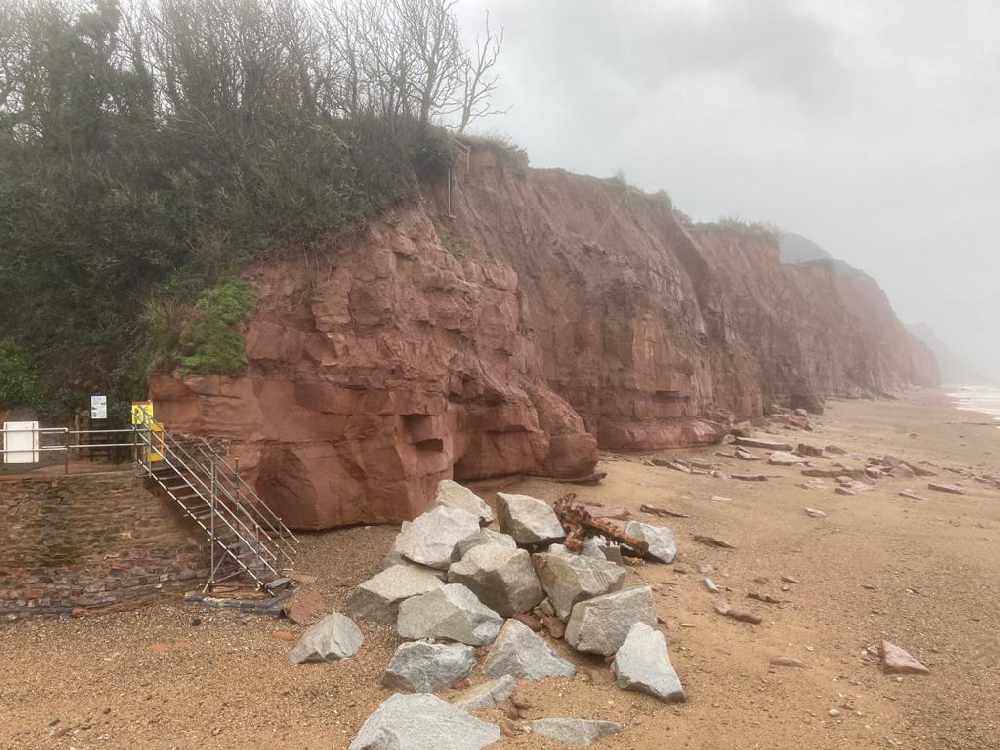 Sidmouth's falling down
Controversial 'splash wall' could be doomed
Plans for new sea defences at East Beach in Sidmouth have taken a step forward as councillors agreed to proposals that could eliminate the need for a controversial 'splash wall' on the seafront.
New options for sea defences became available in April when the Department for Environment, Food and Rural Affairs (DEFRA) offered the council extra money.
At the time, East Devon District Council's cabinet put an existing £9 million scheme on hold – as previously dismissed options potentially became affordable. The council now has up to £14 million to spend.
In the last six months, consultants at Royal Haskoning DVH, a Netherlands-based engineering company, have explored options to see what is now feasible.
This included an extra set of rock islands similar to two already near the seafront, which were part of a 'preferred option' considered by residents in public consultations.
Previously a cheaper metre-high concrete sea wall along the Esplanade at East Beach was considered, but many people feared it would turn into an eyesore.
The extra funds means the council could potentially splash the cash on the more expensive, but better-looking, rock islands which would help to reduce the size of waves hitting the shore and therefore reduce the size of sea walls needed.
The number of rock islands will be decided later when it's known how much they will cost. Officers warn that although two islands would be preferred it would push the council's budget to its limits.
The option for up to two new rock islands will now be assessed in detail following a vote of approval by Sidmouth and East Beach BMP Advisory group, a wing of the district council that has responsibility for much of the East Beach area.
Plans will be drawn up and sent to the Environment Agency for assessment. If approved, it will release money so EDDC can draw up detailed models of the sea defences.
It is expected that some changes will be made to the current proposals at that stage. If the changes are substantial, the scheme may have to go through a 'technical review' before the final designs are put forward for planning permission. More consultations with the public and official bodies will then be carried out.
Speaking at a meeting this week, Councillor John Loudoun (Democratic Alliance Group, Sidmouth Rural) welcomed the development, saying: "I'm genuinely concerned, as I have been all throughout this process, about further added delays because if, for no other reason, the houses in Cliff Road each day are in greater danger. We now need to move forward."
Martin Davies from the Environment Agency agreed and warned of rising construction costs, saying: "I think there's a real imperative to get on with it, putting it bluntly."
Councillor Denise Bickley (Democratic Alliance Group, Sidmouth Town) said: "This looks like a good hybrid to me. Yes, it's a compromise, very much so, but I think that's the only way we're going to push this forward."
She said further modelling would need to be done in future to take account of climate change and rising sea levels.
Speaking after the decision, Councillor Geoff Jung (Democratic Aliance Group, Woodbury and Lympstone), chair of the Sidmouth beach management committee, said: "I am really pleased that the committee today supported the recommendation to move onto the next stage for this important and critical project.
"This scheme has been very challenging for many years and agreeing to move on to the next stage is brilliant news.
"Climate change, due to global warning was hardly a consideration when the earlier schemes were being considered. However, we now understand that the effects of the sea and weather will have serious detrimental consequences on the town of Sidmouth, but this plan is designed to protect properties and residents of Sidmouth, to retain its character and unique charm for the next 100 years."
East Beach is part of the Jurassic Coast, a 155km stretch of coast along East Devon and Dorset which is a 'World Heritage Site.' The special status awarded by the United Nations was given in recognition of the area's geological importance and the 185 million-year-old fossils along its shores.
Sea defences are a major concern for residents of Sidmouth who live near its cliffs and who worry about continued erosion and cliff collapses threatening their homes.
Categories: Environmental health