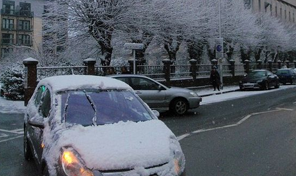 Another cold night on the way
Roads across the county have generally improved throughout the day, as highways teams have been working hard to clear them.
On high ground, good progress has been made with gritters, tractors, ploughs and snow blowers, such that access to the moors tomorrow (Saturday) should be resumed.
But with temperatures across the county set to dip significantly tonight, dropping to minus 5 degrees in places, minus 3 degrees in Exeter, Devon County Council is reminding people to take care.
"It is going to be an exceptionally cold night tonight," said Cllr Stuart Hughes, the Council's Cabinet Member responsible for Highways Maintenance. "And with the snowy weather we've had, the roads are wet and therefore are likely to become icy.
"Travelling on the roads tonight should be avoided if possible. If journeys are essential and you must travel, take extra care and where possible stay on the main salting network – remember, in extreme cold even salting will not stop ice from forming."
Via social media, the public have been expressing their gratitude:
'Thank you, and thanks to your team of snow clearers.'
'After a busy night at the airport it was great to be able to arrive home safely. Thank you to everyone involved in keeping Telegraph and the A380 open. Well done everyone.'
'Great job by @HighwaysSWEST and @DevonCC keeping the A380 and M5 clear this morning.'
'I have travelled from Willand to Exeter this morning. Your colleagues should be congratulated on their work in clearing the roads. Thank you.'
'Our dedicated band of snow wardens have done a fantastic job in their local communities. Many have gone far beyond the call of duty.'