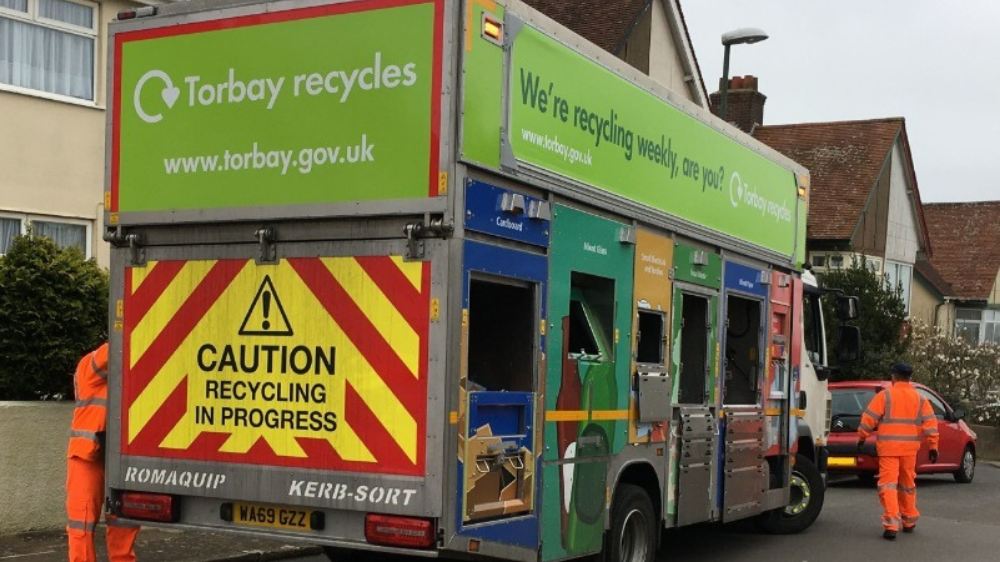 Image: Ed Oldfield/LDRS
Wages unaffected by vaccine status
Unvaccinated bin collection staff in Torbay are still being paid their normal sick pay as the council works to keep up with a backlog caused by staff absences.
The news comes after the council's cabinet member for infrastructure, environment and culture councillor Mike Morey (Mike Morey (Independent Group, Furzeham with Summercombe) told Torbay cabinet that unvaccinated staff self-isolating was "the biggest problem" facing Torbay Council as it struggled to catch up with an "unprecedented" rubbish collection backlog in recent weeks.
As of Tuesday 18 January more than 20 out of 95 front line collection staff – about one in five – were off sick or self-isolating.
Torbay Council's waste collection company SWISCo has been more than 38 collections behind at some points in January. Nineteen collection rounds are usually completed every day.
The requirement for fully-vaccinated workers to isolate when exposed to covid is no longer in place, but unvaccinated staff still have to isolate for 10 days.
Large companies including as Ikea, Next, Ocado and Morrisons have decided to only pay statutory sick pay rates, £96.25 weekly, to unvaccinated staff who are forced to isolate.
Some people have criticised the move, saying that it is unlikely to encourage people to get the jab and will only to add to the financial hardship faced by many. Others hail it as an incentive to get more people vaccinated.
However, Torbay Council says its frontline bin collectors don't have to declare whether they've been jabbed.
A spokesperson for the council said: "SWISCo staff are paid sick pay in accordance to their contractual obligations regardless of the type of absence."
They added that they were unable to comment on how many staff are vaccinated as staff do not have to tell them.
It means council taxpayers are potentially subsidising people who have chosen not to be jabbed but who can't work because they are isolating.
But the council could have a legal justification to ask the vaccine status of bin staff.
The Information Commissioner's Office (ICO), an independent government organisation which governs data protection issues, has published advice to organisations collecting vaccination status data. It says the collection of information about an employees covid status "must be clear, necessary, and transparent."
Employment and HR lawyer Laura McFadyen, a partner at south west legal firm Stephens Scown, said: "Potentially employers can ask their staff if they have been vaccinated or not, but an employer would have to be careful about that because there are certain data protection implications when asking for information."
She continued: "If you're complying with your duty of care to your staff and other people and it is in the substantial public interest, I think you could justify it. Provided you were complying with relevant data protection obligations and carry out a data protection impact assessment.
"Basically if you have a good, legal justification for having that information then you can lawfully ask for it – but it's less risky to ask people if they can tell you rather than insisting that they need to provide it to you."
Given this, it's possible that Torbay Council has decided that either it doesn't need vaccine information of bin collection staff or it's not worth the potential risks of asking for it.
Speaking last week Cllr Morey said: "Unfortunately, because of the omicron variant of covid-19, because it's spreading so quickly, the service is now experiencing an unprecedented situation like other parts of the country.
"Our biggest problem is unvaccinated staff who, if they come into contact with covid, have to isolate for ten days which is, unfortunately, happening a lot.
"We will still be collecting all waste and recycling from households and in most cases you will continue to recycle as normal."
"We apologise once again for any inconvenience caused but we hope everyone will understand that this is an extremely difficult situation."
The council says it has made "significant progress" and as of Monday 24 January was 15 collection rounds behind. They say they wish to catch up "as soon as possible", barring any further outbreaks of sickness and isolation.
On the same day SWISCo had a driver and a loader with covid and three others members of its frontline staff were isolating.
The infection rate in the Bay in the most recent complete seven day period (to Tuesday 18 January) was the highest in Devon, with an average of 1,195 out of 100,000 of the population having the virus.
This was also above the UK average of 925 infections per 100,000 of the population during the same period.
In Torbay, 86 per cent of people aged 12 or above have had one dose of a covid vaccine, while 81 per cent have received two. Sixty-five per cent have had boosters. These figures are slightly behind the natural average of 91, 84 and 64 per cent respectively.