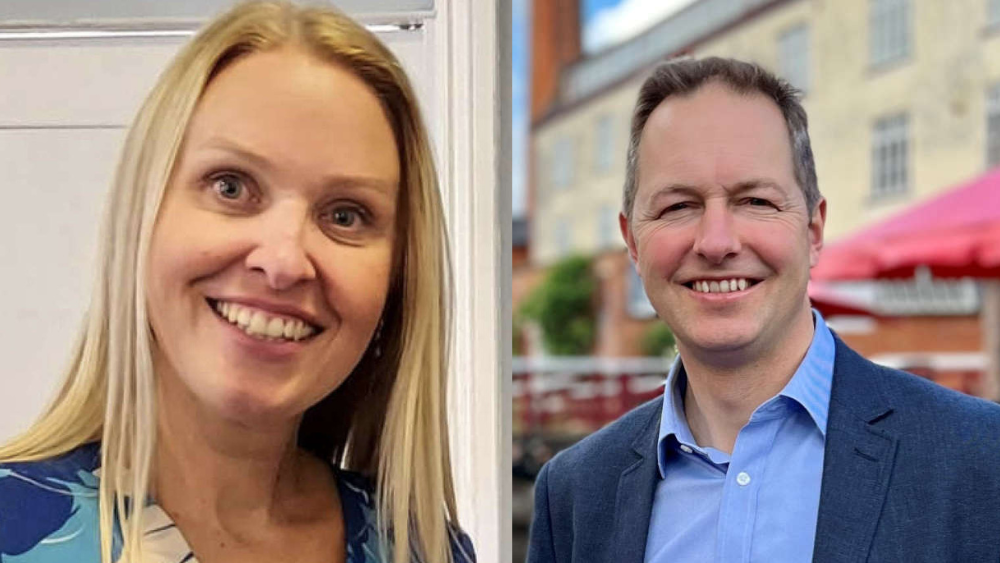 Helen Hurford (conservative) and Richard Foord (Liberal Democrat)
And other spats around Tiverton & Honiton!
Desperately fighting to keep their parliamentary seat for Tiverton & Honiton, Conservatives on East Devon have gone on the attack against East Devon council leader Paul Arnott.
Mr Arnott, who was elected as an independent and leads the council in a grouping called the Democratic Alliance, has joined the Liberal Democrats. He's now calling for voters to get behind Lib Dem Richard Foord in next week's by-election.
East Devon's Democratic Alliance is not to be confused with the East Devon Alliance of Independence. The Democratic Alliance is made of of Greens, Lib Dems and the East Devon Alliance of Independents.
Some other independents on East Devon sit as independents.
The geography is a bit complicated too. Although the Tiverton & Honiton seat covers much of Mid Devon, it spans part of rural East Devon too. East Devon District Council's HQ is in Honiton, although Honiton is not part of the East Devon constituency.
In short, Honiton is in East Devon locally and Mid Devon nationally.
Got that?
Really, all you need to know is that if you get a polling card, you can vote.
The East Devon Conservatives are making much of Mr Arnott's new party affiliation. They say: "Just two weeks after his colleagues from the self-styled East Devon Alliance (EDA) voted him as Leader of East Devon District Council again, Councillor Paul Arnott jumped ship and nailed his colours very firmly to the mast of the floundering SS LibDem.
"The decision to become a Liberal Democrat sent shockwaves through the EDA, particularly after its members supported him following a lengthy and very bitter HR dispute with the chief executive and senior officers.
"According to the leaked information, reported in the media recently, the dispute cost East Devon District Council huge sums paid by way of compensation and legal fees to resolve the issue."
That refers to a report on the Radio Exe website revealing how Mr Arnott blocked a decision by the council's chief executive and led to an employee suffering a stress-related illness. Read the story at: https://bit.ly/3MKNkse
Mr Arnott has responded to the criticisms outlined in that article. His full response is at: https://bit.ly/3xMyUDC
Despite joining the Lib Dems, Mr Arnott is being much nicer about the Tories.
Announcing his new party allegiance at national level, he said: "In the possible event of a Conservative win, I may find myself working with Helen as Leader at EDDC, so I have no intention of being negative about her; she seems like a nice person."
Back on the Tiverton & Hontion campaign, the Lib Dems are throwing the kitchen sink into trying to overturn former MP Neil Parish's 24,000 majority. Party leader Sir Ed Davey and other leading Lid Dems keep pitching up to back their man.
The election is being called because Mr Parish resigned the seat after admitting watching pornography on his mobile phone while waiting to vote in the House of Commons.
He says he was initially researching tractors.
The Conservative candidate hoping to replace him, former headteacher Helen Hurford, has turned down his offer of a helping hand on the campaign trail.
She won't say whether she would have supported Boris Johnson in the confidence motion last week, but that she thinks he is doing a brilliant job.
Mr Foord's jumped on that with glee, splattering the prime minister's photo on his own election leaflets, with Ms Hurford's backing for the PM writ large.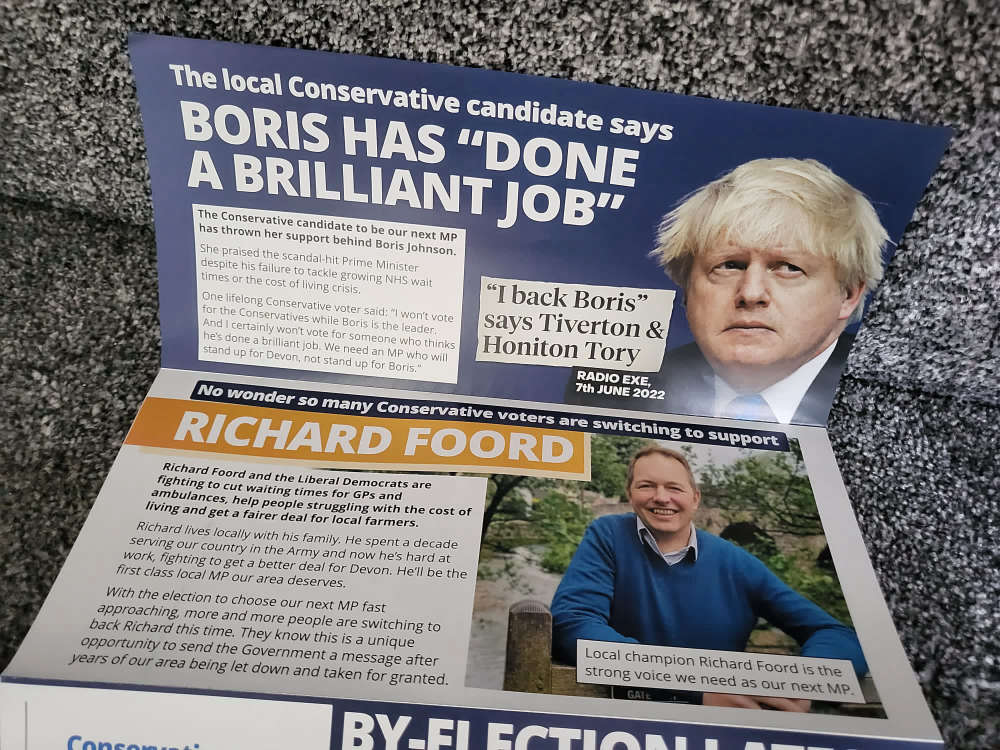 Lib Dem candidate Richard Foord is keen to promote his Tory rival's support for the prime minister
Meanwhile the Conservatives think Labour and the Lib Dems have organised a political stitch up in which Labour isn't putting much effort into Tiverton & Honiton, and the Lib Dems are largely keeping away from Wakefield, which has a by-election on the same day.
A Tory source told the Daily Telegraph: "Keir Starmer and Ed Davey have entered into this grubby back room agreement without consulting any of their members or MPs. They are to all intents and purposes the same party now favouring open borders, extreme gender politics and having a general disdain for Britain.
"They should at least have the honesty to come clean over this deal but nobody expects them to do the decent thing. They are after all the same people who spent four years trying to subvert democracy."
Eight candidates are standing for election in Tiverton & Honiton next week:
Jordan Donoghue-Morgan – Heritage Party
Andy Foan – Reform UK
Richard Foord – Liberal Democrats
Helen Hurford – Conservative
Liz Pole – Labour
Frankie Rufolo – The For Britain Movement
Ben Walker – UK Independence Party
Gill Westcott – Green Party
The vote is on Thursday 23 June.
This article was amended on Monday 13 June to clarify, if that's the right word, that the Democratic Alliance is not the East Devon Alliance, but that the East Devon Alliance allies itself to the Democratic Alliance. Originally we had written that Mr Arnott led a group called the East Devon Alliance. We're happy to point out he leads the Democratic Alliance. We had explained this more fully when the groups were established. That story is here: https://bit.ly/3xoWftQ