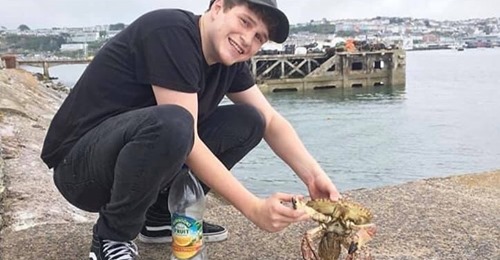 Ethan Bonner enjoyed 'urban exploring' (family photo/Facebook)
Hospital "did everything" for Ethan Bonnar, says mother
A young man who fell 15 feet through the unstable roof of a redundant industrial building in Totnes whilst 'urban exploring' has died of his injuries.
Ethan Bonner, 22, is believed to have been trapped with serious injuries for more than 24 hours in the former Dairy Crest building in the town before being found and taken to Derriford Hospital.
On Facebook, Kingsbridge Police says: "It is with the saddest of hearts to report that the male who fell through the roof of the old Dairy Crest building in Totnes passed away yesterday...On behalf of all of us involved in this search on Wednesday we send our deepest sympathies."
His heartbroken mother Cheryl Reynolds has set up a fundraising page in memory of her son. She writes: "With saddest news my son Ethan Bonnar was badly injured in accident and with his hardest efforts and amazing hospital team they did everything they could. Ethan has now gone to a better place. He was extremely loved by his family and vast amounts of friends from Scotland to Devon and uni mates....My baby boy rest my child. We love you xxx.
The memorial page is at: https//bit.ly/3f17jf4