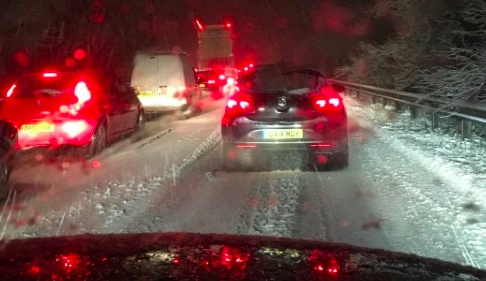 Photo: @MirandaGomperts via Twitter
Ploughs and gritters are currently clearing the snow
"Please stay in your cars and be patient, we're trying our hardest to resolve the situation," says Sargent Olly Tayler via Twitter.
Earlier this afternoon Police warned people not to drive unless absolutely necessary.
Chief Inspector Adrian Leisk, Head of Roads Policing for the Alliance, said: "It is vitally important that the public take these warnings serious. It is in place from 2pm today meaning that it will impact rush hour traffic, therefore we advise that people give serious consideration to their journey home from work and the school runs; we recommend that people do not travel unless essential.
Listen to Radio Exe from 6am tomorrow morning for full traffic and travel updates.
Stuck on A38 whilst emergency services clear snow from Halden Hill #traffic #snow #a38 pic.twitter.com/vXaFVbvxDo

— Hannah Gow (@FudgeGecko) January 31, 2019
Current conditions on the #A38 near #Chudleigh Please drive to the conditions. Do not travel unless absolutely essential. @DC_Police @DevonLiveNews @BBCDevon @BBCTravelSW pic.twitter.com/rmN1vxtKbK

— Sgt Olly Tayler (@DC_PoliceBiker) January 31, 2019
Current conditions on the #A38 at #HaldonHill Traffic held while we get ploughs and gritters to help clear it. Please stay in your cars and be patient we're trying our hardest to resolve the situation. @DC_Police @DevonLiveNews @BBCTravelSW @BBCDevon pic.twitter.com/VfTOaeXV3G

— Sgt Olly Tayler (@DC_PoliceBiker) January 31, 2019