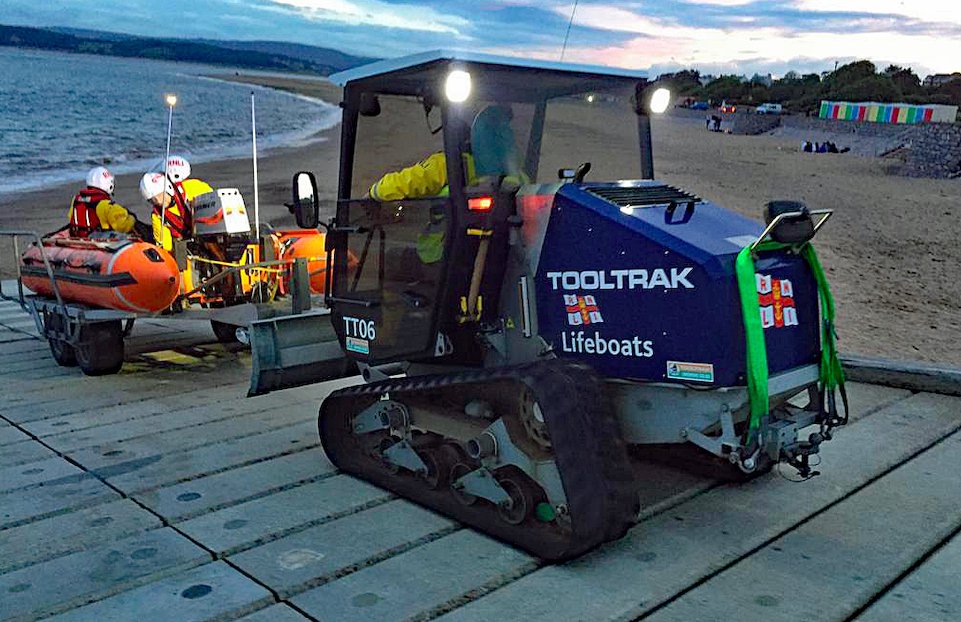 Exmouth inshore lifeboat at dusk (courtesy: Chris Sims / Exmouth RNLI)
Exmouth inshore lifeboat to rescue
Two people stuck in mud in the River Exe estuary have the RNLI to thank for getting them out before there tide cam in.
The coastguard was alerted to their difficulty around 5.20 p.m on Saturday afternoon. They were were described as being by the duck pond towards Mudbank Lane.
Exmouth's inshore lifeboat, with volunteer shore crew Robert Thompson, Chris Sims, Harry Griffin and Dougie Wright, rushed to the area, quickly located the casualties and extricated them before taking them to the safety of Exmouth Marina. Neither was injured or required medical attention.
RNLI advice for those walking close to rivers is :
Plan your trip: Always seek local advice about safe areas to walk, check the tide and weather forecast and plan your route accordingly.
Always let someone know where you are going and when you expect to be back.
Always take a means of calling for help.
Use your eyes: if it looks soft or looks like mud, it probably is, so stay off it.
Be aware that mud can appear / disappear quickly so areas of the beach or river bed that may have been mud-free half an hour previously may have mud patches on your return walk.
If you become stuck in mud, try to spread your weight as evenly as possible across the surface, avoid moving and stay as calm as you can and discourage other people from attempting to rescue you, as without the proper equipment they could become stuck too.